2 volunteer firefighters arrested for firehouse arson
Gregory Bomba and William Tortora have been charged with setting a truck ablaze outside a firehouse last month
---
By Christine Dempsey
Hartford Courant
SHELTON, Conn. — A former fire captain and a volunteer firefighter have been charged with setting a truck ablaze outside a Shelton firehouse last month, police said.
Gregory Bomba, 45, of Newtown turned himself in to police Monday on arson charges, police said. William Tortora, 57, of Shelton was arrested Thursday on the same charges.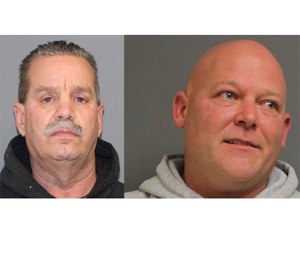 Both were charged with second-degree arson, second-degree reckless endangerment, second-degree criminal mischief and conspiracy to commit all three crimes, police said.
Each man was in custody on $250,000 bail after his arrest. Bomba was scheduled to be arraigned in Superior Court in Derby Monday; Tortora was arraigned Friday and remains in custody on the same bond at the Bridgeport Correctional Center, according to court and correction records.