Ark. FF arrested for 'terroristic act' in drive-by shooting of own home
A Rogers Fire Department firefighter was arrested after allegedly performing a drive-by shooting of his own home where his girlfriend and a child were staying
---
By Rachel Engel
ROGERS, Ark. — A firefighter was arrested after allegedly performing a drive-by shooting of his own home where his girlfriend and a child were staying.
Travis Harp, 33, was arrested on Friday and charged with felony "unlawful discharge of a firearm from a vehicle" and a "terroristic act," according to a probable cause affidavit, KNWA reported.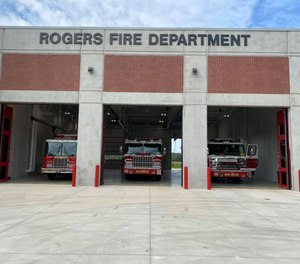 The incident, which occurred in November 2020, began after an argument between Harp and his girlfriend. She told police that Harp was intoxicated and grabbed a beer and a gun before being picked up by someone in a gray truck, which was corroborated by security cameras at the home.
It was later revealed that Harp's ex-wife was dating the man who owned the gray truck, and both were in the vehicle when they picked up Harp from his home that night, with Harp's ex-wife driving the vehicle.
According to a police report, Harp's ex-wife told investigators that Harp called her intoxicated on the night of the incident, demanding to be picked up. When the ex-wife and her boyfriend arrived in the gray truck, Harp got in the backseat on the passenger side.
The ex-wife told police that "Travis started talking about wanting to do a drive-by," not realizing he was going to shoot at the home. According to the police report, she said "he pointed a gun and fired at least one shot."
Police were called to the home for a welfare check and Harp denied the allegations.
On Friday, Harp was arrested and taken to jail, with bond set at $20,000.
Rogers Fire Chief Tom Jenkins told KNWA that "we are aware of his arrest. He's been placed on paid administrative leave pending the results of the criminal and internal investigation."