Fla. engineer who stopped ambulance stabbing named American Legion Firefighter of the Year
Jacksonville Fire Rescue Department Engineer Vincent Harper is credited with saving his partner's life when both were stabbed by a patient in October
---
By Laura French
JACKSONVILLE, Fla. — A Florida fire engineer who was stabbed by a patient in an ambulance has been named Firefighter of the Year by American Legion. 
Jacksonville Fire Rescue Department Engineer Vincent Harper and his partner Capt. Latorrence Norris were transporting a patient in October when the patient suddenly became violent and grabbed a box cutter from Norris' pocket, according to News 4 Jax.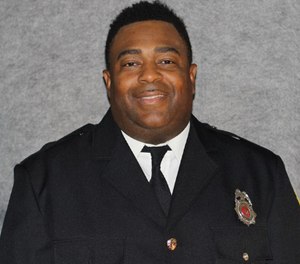 Harper noticed the struggle in the back of the rig from the driver's seat and came to Norris' aid, helping to restrain the patient until police and other first responders arrived. Both firefighters sustained stab wounds in the struggle. 
Norris credited Harper with saving his life, telling News 4 Jax in January that if it weren't for his partner's actions, "I would be dead right now. There's not a doubt in my mind." 
American Legion named Harper Firefighter of the Year, a title awarded to a firefighter "who has exceeded the requirements expected of his or her position and has shown a distinct pattern of community service and professional achievement," according to American Legion's website. It is the second year in a row that a Jacksonville firefighter has received the award. 
Jacksonville Fire Rescue also named Harper its Firefighter of the Year in January and presented him with the Lt. Joseph F. Stichway Award for "demonstrating heroism beyond the call of duty," according to First Coast News.