Do you have what it takes to be a smokejumper?
As the 'special ops' of firefighting, smokejumpers need extreme skills to succeed in extreme conditions
---
Most firefighters are eager to finally get their "big one" – but smokejumpers get their "big one" every time the alarm sounds.
Smokejumpers combine skydiving and firefighting, jumping from turbine engines into rampant wildfires in areas not accessible by road. As they jump, winds can propel their parachutes to 20 miles an hour (or more), making landing coordinates nearly impossible to predict. Once they've landed, the job actually begins, fighting a fire sprawling over hundreds of acres without support. 
Being a smokejumper is more than a job, it's a lifestyle. Could you hack it in this extreme profession?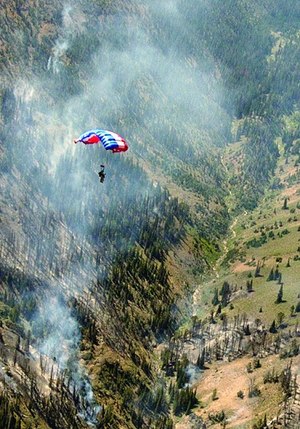 1. Are you devoted to wilderness?
It's not enough to enjoy hiking or an occasional camping trip. Smokejumpers are survivalists. They are the initial force to calm wildland fires in remote areas. Tools, food and water are dropped by parachute to the firefighters after they land, then it's up to each firefighter to be self-sufficient for about 48 hours.
2. Does your previous experience show you don't mind dirty work?
Going into wildland firefighting requires a special appreciation for nature and dirty work. Apart from needing at least one season of specialized wildland fire suppression work to be considered for the job, smokejumpers need one year of experience to prove skill with hand tools, as well as familiarity with safe work practices. This can include farming, ranching, fire control work or soil and water conservation activities. It is also essential to know basic first aid procedures. 
3. Are you beyond an adrenaline junkie? 
Smokejumpers are the "special ops" of firefighters, so it goes without saying that the job is intense. Many don't realize exactly how intense it actually is, though. The job often involves prolonged periods when smoke, heat and short supplies of food and water take their toll. 
Often, smokejumper's parachute can snag on trees as they descend, making for a difficult landing among massive trees in the forest. Douglas firs, common in the Pacific Northwest, can reach around 130 feet. If a parachute gets caught atop a tree, smokejumpers have no choice but to climb down to get to their airdropped equipment. 
4. Are you able to train harder than ever?
Firefighters train hard, but smokejumpers train harder. Keep in mind that an entry-level smokejumper job is not an entry-level firefighting job, and the U.S. Forest Service physical fitness requirements are intense. 
As a minimum requirement, all smokejumper candidates are required to pass the standard smokejumper physical training test on the first day of training. Candidates must also do seven pull-ups/chin-ups, 45 sit-ups, 25 push-ups, and a 1.5-mile run in less than 11 minutes (and some bases sit at elevations as high as 5,000 feet). The test is taken in one time frame with five-minute breaks between specific exercises.
In addition to the basic physical requirements, ongoing training is challenging. Because landing after the jump is so unpredictable, practicing for any situation is imperative. Smokejumping bases have simulators that lift trainees up and drop them at many different speeds (up to 10 mph) so they can learn to land properly. 
5. Can you sew? 
You wouldn't expect a high-adrenaline career and the art of clothing design to be combined skillsets, but smokejumpers are often responsible for tailoring (inspecting, repairing and making) their own suits. According to the National Interagency Fire Center, smokejumpers have some of the best sewing skills around. Jumpers build their gear and components for the upcoming fire season. They make everything they use, from the jumpsuit to the harness to the backpack. 
Even if your lifestyle is a perfect fit for the role, landing a spot in the field is competitive. As of 2011, there were only 470 smokejumpers and nine bases in the United States. Smokejumping is seasonal, lasting from about May to October each year. Keep in mind there are also size requirements and restrictions. Smokejumpers must be between 5 feet and 6 feet, 4 inches tall without shoes, and between 120 and 200 pounds without clothes.