Teenager reflects on first year as Maine FD's first full-time firefighter
Camdan Carmichael was only 18 when he made history in his hometown of Rangeley
---
On Nov. 9, 2020, Camdan Carmichael reported for duty at Rangeley (Maine) Fire Rescue as the town's first full-time firefighter.
Although only 18, the young firefighter was by no means new to the fire service. Carmichael had been a member of the department in high school. He began as a junior firefighter when he was only 14, eventually overseeing the junior program as a junior firefighter captain.
Carmichael's allegiance to the fire department was no surprise to those around him. In fact, being a firefighter seems to run in his blood, as his great-grandfather, grandfather and uncles were all firefighters, as are his cousins.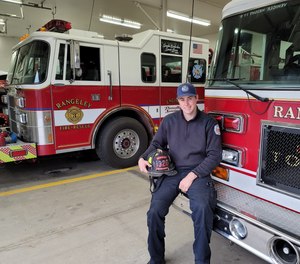 Early experience
At 17, Carmichael enrolled in the firefighting program at Foster Career and Technical Education Center in Farmington, Maine. During those early years, he completed emergency vehicle operation, ice water rescue technician, pumps and advanced extrication certification trainings, and earned his Firefighter I and II certification and EMT license.
As a senior at Rangeley Lakes Regional School, Carmichael worked with Rangeley Fire Rescue as part of a state-sponsored on-the-job training program. The program allowed him to work 40 hours a week as he trained and expanded his firefighting knowledge and skills.
Carmichael acknowledges that it was a "challenge balancing school and working 40 hours a week, but after a while, I got used to it and developed a schedule to help me stay on track with school."
After graduating in June 2020, Carmichael enrolled in the fire service program at Southern Maine Community College. He was also accepted into a live-in program at Cumberland Fire Department as a per diem firefighter. This involved Carmichael living at the fire station – going on calls and attending trainings – all while studying to earn his associate degree.
"Being a live-in, not only in Cumberland but anywhere, … it's truly a great opportunity for anyone wanting a career in fire or EMS," explains Carmichael, who looks upon his time at Cumberland as a genuinely positive experience, saying everyone was both welcoming and supportive.
The application process
Not long after starting school, Carmichael applied to an opening at Rangeley for the department's first full-time firefighter.
Chief Michael Bacon, who was a member of the hiring board, explains: "We had candidates from all over the state. Our process was based on scoring through several categories. Carmichael was the best overall and interviewed very well …. It was a very tough process with top-notch candidates."
Given his prior experience with Rangeley, it may seem that Carmichael would be a shoo-in for the position. However, Chief Bacon recounts how they ensured a fair process: "We looked at only training in general for the candidates. We also had the Town Manager on our board to ensure the process was thorough and fair."
The chief says that the board's priority was to find the right candidate for both the department and the community because as "our first full-time firefighter a lot would be falling on their shoulders."
Already making progress
After accepting his new position, Carmichael moved back to his hometown.
Located in Franklin County, Rangeley is located at the center of the Rangeley Lakes Region, close to Saddleback Mountain ski resort. The town's population was 1,169 as of 2020.
Rangeley Fire Rescue serves 22 towns and townships over an approximately 650-square-mile swath of western Maine. Their call volume fluctuates seasonally due to the region's recreational opportunities. Carmichael notes that "some weekends, depending on what events are planned, Rangeley's population can increase by 10,000 people." 
As with most fire departments, most of the calls in Rangeley's service area are EMS, Carmichael confirms. On the fire side of things, they get calls for technical rescues, water rescues, hiker rescues and injuries, skier injuries, and snowmobile and ATV accidents, among others.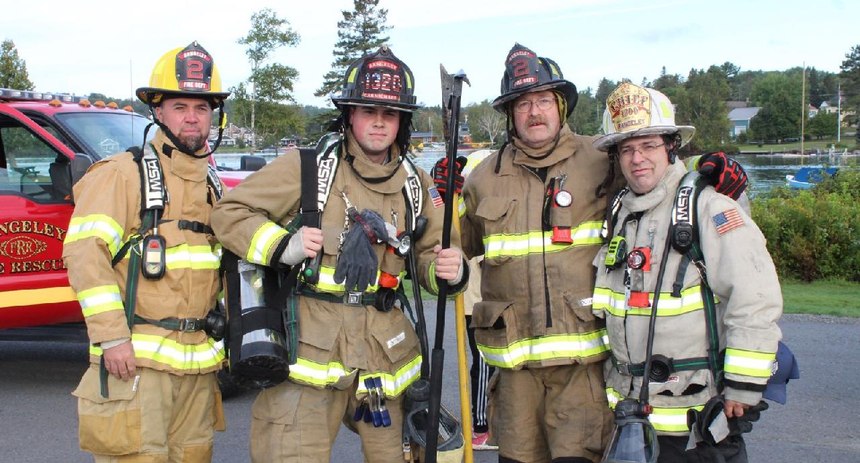 Did it feel different to be a full-time employee? "At first, yes," Carmichael says. "Knowing that I would have more responsibility … however, it didn't take long for me to understand and find a balance."
Bacon says it's been wonderful to have a full-time firefighter on staff. The department is now safer because they are able to perform vehicle checks weekly and address issues promptly. "That in itself is a huge win for the safety of my firefighters," he notes.
Call response time has also improved. Before Carmichael was hired, the department was able to get an apparatus on the road within about eight minutes of an emergency. That time is now down to two minutes, which "is a huge win for the community," Bacon adds.
Carmichael recounts that, all things considered, his first day was pretty "normal" given that there never really is a normal day at the firehouse. And most people will agree that beginning a new career in the middle of a global pandemic is anything but normal.
Carmichael admits that being thrown into the job during a year-long state of emergency had its challenges, among them, the changes made to emergency response procedures to reduce the risk of exposure to COVID-19.
Continued learning and advancement
One positive aspect of the pandemic is Carmichael's ability to participate in his college courses online. Given that Southern Maine Community College is located about a 2.5-hour drive one way, he appreciates being able to attend remotely.
At 19, Carmichael is more than halfway to his associate degree. He takes up to two classes each semester – no small feat for a teenager who works full-time as a professional firefighter. He has also completed training related to tower operations, incident command, fire inspection, fire science, RIT operations and hazmat.
When asked about his career goals, it's not surprising to learn that the young firefighter's long-term aspiration is to become a fire chief.
Luckily, Carmichael has plenty of good influences in the fire service who can guide him on this path. He looks up to many people he's met along the way – some are great friends and others he only knows by name, but all have left an impression on him. "I try to take a little piece from each one of them to try and be a better firefighter myself," Carmichael says.
Those who have had the most profound impact on Carmichael so far include the first chief he worked for at Rangeley, Chief Tim Pellerin. The chief took him under his wing and taught him the basics. When Chief Pellerin retired, Chief Bacon took over. The new chief, a 28-year veteran of the fire service, picked up where Pellerin left off and is now teaching Carmichael everything he knows about the fire service and how to be a good officer.
"I want to make sure Camdan has all the training and education to succeed so he can keep building his career," Bacon adds.
After completing the Fire Science program, Carmichael plans to obtain a higher degree in either fire science or public safety and emergency management. He also wants to become Fire Officer I, II and III certified.
Bacon feels confident in Carmichael's continued success: "I have no doubt that once I have retired and moved on, I will be able to look back and say with pride … I once influenced and trained that firefighter."
Will Carmichael remain in his hometown and put down roots? As of now, he says he will because Rangeley is growing every year. He hopes to see the fire department expand by hiring additional full-time staff and maybe opening another fire station.
"There's plenty of potential here for Rangeley to perhaps one day be a bustling tourist destination," Carmichael says.

Read next
Teenager hired as Maine town's first full-time firefighter
Camdan Carmichael, 18, was selected from among several candidates to work at the Rangeley Fire Rescue Department