How to prevent, recognize and stop a chimney fire
Each year, more than 20,000 residential blazes are caused by chimney fires; learn how to spot one
---
With the days getting shorter and colder, a roaring fire is the perfect way to relax in the evenings … if the fire remains contained.
But what should you do in the event a fire becomes a chimney fire?
Read next: How to put out a kitchen fire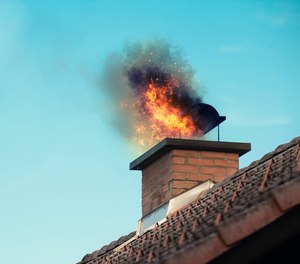 How to prevent a chimney fire
According to the Chimney Safety Institute of America (CSIA), there are more than 20,000 residential blazes that stem from chimney fires each year, which, the NFPA has shown, are often caused by a lack of maintenance.
1. Get your chimney cleaned before the first fire of the season. This is not a chore people often think about, but per FEMA, "clean chimneys don't catch fire." An annual cleaning and inspection by a certified chimney sweep will help keep your chimney in safe working condition.
2. Prevent the buildup of creosote. As wood burns in the fireplace, the byproduct of the fire (smoke, water vapor, gases, unburned wood particles, hydrocarbon, tar fog and other minerals) flow up into the chimney, where condensation occurs, which creates a sticky residue called creosote, which sticks to the chimney walls and could cause a fire. Prevent buildup by:
Keeping fireplace doors open;
Keeping the damper open wide; and
Using seasoned wood.
Creosote-fueled fires are considered extremely dangerous, as they burn hotter, longer and are hard to extinguish.  
3. Cover the fireplace. A fireplace screen helps prevent embers or sparks from jumping out and catching the carpet or nearby furniture on fire.
4. Do not sleep or leave the house with the fire burning. An unattended fire is asking for trouble, so be sure to wait until the embers have fully gone out in the fireplace before heading to bed for the night.
5. Safely dispose of ashes. Ashes from a recently burned fire should be placed in a metal container with a lid and placed at least three feet from the perimeter of your home.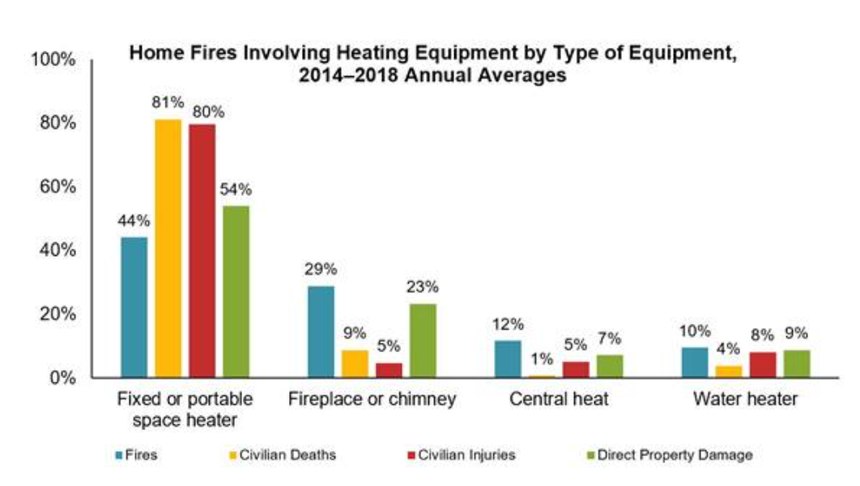 How to recognize a chimney fire in progress
It can be difficult to determine when a chimney fire begins, but there are several things you may notice:
A loud roaring noise coming from the chimney
Ash and debris coming out of the top of the chimney
Black smoke coming from the chimney
Popping and cracking noises in the chimney
Read next: How to prevent – and extinguish – a Christmas tree fire
How to stop a chimney fire
You now recognize the signs of a chimney fire in your home. What should you do?
1. Close the doors. IF it is safe to do so, close any doors to your fireplace to help reduce the oxygen intake.
2. Get out of the house. If you suspect a chimney fire, leave your home, and call the fire department.
You may be tempted to spray the outside of your chimney down with a hose, but be warned that putting cold water on a hot chimney could crack the masonry. 
Once the fire is out, you may also be tempted to overlook a minor fire as no big deal, but it's important to have your chimney inspected following even the smallest of fires to ensure no structural damage occurred during the incident. 
---

Read more
How to put out a grease fire
An informative article on how to put out a grease fire to share with your community