MANY THREATS
ONE SOLUTION
---
Decon7's BDAS+ offers first responders a quick, easy, ready-to-use solution against bacteria, viruses, mold, spores, and chemical threats.

D7 Laundry is a cost-effective laundry solution for turnout gear, equipment & PPE.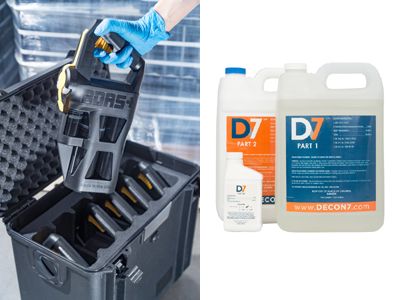 Effective. The powerful, proven D7 formula is used by teams the US military and many different government agencies. Originally developed by Sandia National Laboratories to neutralize chemical and biological weapons, D7 was a key component for successful decontamination of the Hart Senate Building and US Post Office in Washington, DC and NBC Studios in New York City following the 9/11 anthrax attacks.
Safe. D7 meets the demands of strict environmental laws and regulatory requirements. It is biodegradable and safe for household use, yet powerful enough to neutralize toxic and/or deadly chemicals, bacteria, and viruses within minutes.
Versatile. The versatility of D7 is unmatched to any other products. Aside from the ability to be fogged, foamed or sprayed, benefits of using D7 versus traditional soap and water as a laundry solution for turnout gear include:
1. Efficacy - While most products on the market only clean, D7 actually disinfects. Third party validated laundry test data proves that D7 is capable of a 4 log kill on cloth carriers.
2. Turnaround Time - D7 is going to eliminate pathogens much more quickly than traditional soap and water. Wash cycles are shorter
3. Lower Costs - Because there is no need to heat the wash water, this results in lower utility costs, lower labor costs, and improved productivity.
4. Less Wear and Tear - D7 will not degrade your protective gear! Degradation testing per NFPA standards can be found here.
Did you know? In 2015, 10-20 Services used D7 to successfully decontaminate 5,480 pallets of US Marine Corps' PPE including everything from boots to cold/wet weather clothing systems and body armor allowing them to recover over $100M worth of equipment that would have otherwise been lost. D7 has proven to be gentle while remaining extremely effective on protective fabrics. The formula is capable of neutralizing a wide range of biological and chemical contaminants, including Fentanyl, molds, pathogens from blood and bodily fluids, and carcinogens.
Looking for convenience? D7 is available in a patented, ready-to-use dispenser that's small enough to keep handy in your backpack or vehicle, yet powerful enough to neutralize virtually all chemicals, bacteria, viruses, spores, molds, fungus, and narcotics.
Watch it in action:

Please fill out the form to request more info:
Thank You!