Smiths Detection
---
Smiths Detection is a global leader in threat detection and screening technologies for military, air transportation, homeland security and emergency response markets. Our experience and history across more than 40 years at the frontline, enables us to provide unrivalled levels of expertise to detect and identify constantly changing chemical, biological, radiological, nuclear and explosive threats, as well as weapons, contraband and narcotics. Our goal is simple: to provide security, peace of mind and freedom of movement upon which the world depends.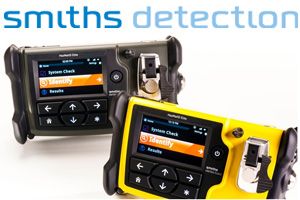 Feature highlights:
MIL-STD-810G certified for use in harsh conditions and high-temperatures
Integrated pressure device for analysis of solid materials, plus direct touch-to-sample capability
Automated analysis of mixtures with priority alerting for explosives, CWA, TIC and narcotics
Long-range, embedded RF wireless transmission
To see the official product accreditations for the HazMatID Elite, please click here.
HazMatID Elite is a next-generation handheld unknown solid and liquid chemical identifier that performs an analysis in 1 minute or less.

Request more information from Smiths Detection by submitting your info below.
Thank You!