Get Answers When You Need Them. Fast, Accurate, and Easy Chemical Identification.
HazMatID Elite - Handheld FT-IR Chemical Identifier
---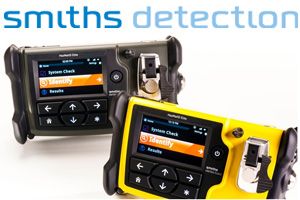 Feature highlights:
MIL-STD-810G certified for use in harsh conditions and high-temperatures
Integrated pressure device for analysis of solid materials, plus direct touch-to-sample capability
Automated analysis of mixtures with priority alerting for explosives, CWA, TIC and narcotics
Long-range, embedded RF wireless transmission
To see the official product accreditations for the HazMatID Elite, please click here.
HazMatID Elite is a next-generation handheld unknown solid and liquid chemical identifier that performs an analysis in 1 minute or less.

Request more information from Smiths Detection by submitting your info below.
Thank You!