W. L. Gore & Associates, Inc.
---
W. L. Gore & Associates, Inc.
105 Vieve's Way
Elkton, MD 21921
Phone: 410.392.3600
As the industry continues to learn about evolving fireground hazards, the gear you wear and how you wear it is becoming more and more critical. GORE® Protective Fabrics deliver head-to-protection, while managing heat stress better in all kinds of conditions — even after exposure to extreme heat.
Visit W. L. Gore & Associates, Inc. online for more information
GORE® Protective Barriers — Engineered with Protection and Comfort to Meet Your Evolving Needs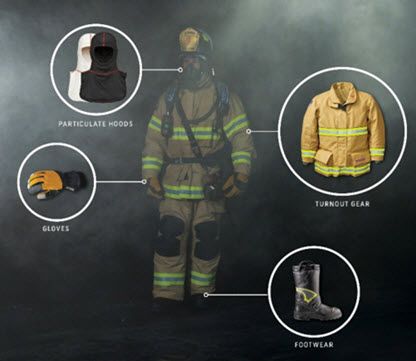 In addition to protection that exceeds the latest edition of the NFPA standards, GORE® Protective Barriers deliver the highest breathability, so you can wear it longer at the fire scene.
Certified to the particulate-blocking option of the NFPA 1971 Standard, 2018 Edition, the GORE® Particulate Hood is your best choice for protection and comfort. This durable hood barrier maintains its 99.9% particulate-blocking performance even after 100 wash cycles.
Third-party testing has confirmed that the GORE® PARALLON™ liner system in your gear delivers the highest breathability, followed closely by the GORE® CROSSTECH® black moisture barrier. Both of these products performed significantly better than the competition in helping to reduce heat exhaustion.
Gloves with GORE® CROSSTECH® glove inserts maintain a durable barrier that ensures reliable, long-lasting protection while providing the dexterity you need to complete your job successfully.
Leather boots with GORE® CROSSTECH® fabric have been proven to reduce the risk of slips and falls. This fabric leads the industry in providing durable, breathable protection in firefighter footwear.

Be the first to hear about products, announcements, and special deals & promotions from W. L. Gore & Associates, Inc.
Thank You!