7-foot firefighter measured by Guinness Book of World Records
Tullahoma Firefighter Brandon Berridge, nicknamed "Shorty," could be the world's tallest firefighter
---
By Laura French
TULLAHOMA, Tenn. — A Tennessee firefighter who stands at 7 feet tall might be the tallest firefighter in the world, and was recently measured by representatives from the Guinness Book of World Records. 
Tullahoma Firefighter Brandon Berridge was officially measured on Jan. 13, according to WSMV.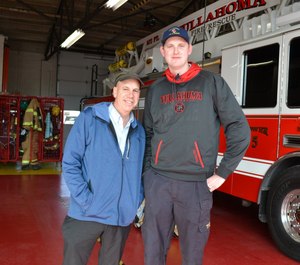 "He goes by Shorty. If he hears Shorty, he comes running," a fellow Tullahoma firefighter said. 
According to colleagues, Berridge doesn't need to use a ladder when installing smoke detectors and sometimes eats his lunch using the top of the firehouse refrigerator as a table. 
"It's the perfect height for me," said Berridge. "I don't have to scrunch, just grab a spot." 
Being 7 feet tall does have some of its disadvantages – Berridge has to duck a lot, earning him a second nickname, "Aflac," after the insurance company's feathered mascot. 
"The inseam of his pants is 44 inches," said Tullahoma Fire Chief Richard Shasteen. "The manufacturer said no way, but I said yes, this boy is 7 feet tall."
No word yet on whether Berridge is officially the world's tallest firefighter, which will be a new entry in the Guinness Book. 
While we wait for the results, be sure to check out our list of other world records held by the fire service.