Civil Service Commission sides with Mass. female FF-EMT passed over for promotion
The ruling requires that Tracy Blanchette get back pay, and Methuen FD must decide whether to promote her to captain or create an equal supervisory position
---
Allison Corneau
The Eagle-Tribune
METHUEN, Mass. — The Civil Service Commission ruled in favor of Methuen Firefighter-EMT Tracy Blanchette's appeal that claims city officials passed her over for a promotion from private to captain because she is a woman, as well as favoritism — even on the part of the fire chief.
Now the department must decide whether she will be promoted to captain, or — since a future vacancy in the captain position is unlikely before Blanchette is expected to retire — if they will create an equal supervisory position.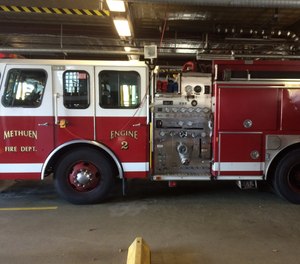 The Civil Service Commission ruling requires she receive back pay at a captain's salary level dating to February 2019, when she was passed over for a position. According to city budget records from fiscal year 2021, fire captains currently make about $80,000 per year. Privates currently are paid approximately $60,000 a year.
"The violation of civil service law in this appeal has been shown to be intolerable," Commissioner Cynthia Ittleman wrote in a scathing decision following a Nov. 18 vote of the five-member commission.
Mayor Neil Perry and Chief Tim Sheehy both referred requests for comment to Assistant City Solicitor Peter McQuillan.
"The matter is under review and we have no further comment at this time," McQuillan, speaking on behalf of the city, said.
Witness testimony, including from Blanchette, described a "mutual back-scratching employment culture" available to the male, but not the female, firefighters at the Methuen Fire Department.
Such culture broke wide open when Blanchette was bypassed for a promotion in favor of Matthew Tulley, a close friend of the fire chief, and further ostracized in the department.
The city's first female firefighter who joined the department in 1993, Blanchette filed a sexual discrimination suit in Essex Superior Court in November 2020, seeking $2.75 million in damages for back pay, lost wages, pension benefits and emotional distress. That suit followed her complaint with the Civil Service Commission that was adjudicated Thursday.
Blanchette is represented by Attorney Gary Nolan, who also serves as the Methuen Police Department superior officers union attorney.
Malden Mills: Just a 'medical call'
Carrying an "unblemished employment record," Blanchette was lauded locally and statewide as Firefighter of the Year for her work in the 1995 Malden Mills fire. During his testimony with the Civil Service Commission, however, Sheehy "consistently refused to acknowledge Blanchette's efforts, and downplayed the entire event," which required the response of 58 fire departments, according to court documents.
Instead, Sheehy said it was nothing more than a "medical call" and that "she did a pretty good job probably transporting a burn victim."
After Blanchette landed in second place, the commission said her employer "relied on a deeply flawed, inherently biased second interview, led by the Fire Chief, to bypass Blanchette in favor of a male candidate."
That candidate — Tulley — had employed Sheehy in his private electrical business and was friendly with several other "high-ranking officials who were looking out for his interests," Ittleman wrote.
City Councilor James McCarty is related to Tulley through marriage, while former longtime Methuen Mayor and City Councilor William Manzi is one of Tulley's cousins. Tulley's brother, John, is also a city employee. Deputy Fire Chief Richard Aziz is the brother of former city councilor and mayoral candidate Jennifer Kannan, according to court documents.
'The chief wants Matt'
In 2017, Integrity Testing — operated by Alfred Donovan and which has contracted with the Methuen Police Department in the past — held a captain's assessment center evaluation for an open position at the time.
Six weeks later, a promotional list was issued, with Michael Fluet — a lieutenant at the time — and Blanchette listed as No. 1 and No. 2, respectively. Tulley and Timothy Smith tied for the No. 3 spot. Blanchette scored higher than Tulley on the structured interview, oral presentation and knowledge-based portions of the exam.
Blanchette testified that immediately after rankings became known, she began to hear "unsupportive" comments from fellow firefighters.
"Hey, great job, too bad you're not going to get the position. The chief wants Matt in the position. It's his best friend. It's going to be easier to promote Matt to Assistant Chief from Captain than from private," one text message read.
Testimony showed that the Fire Department promotion process in Methuen was traditional until 2017. A civil service written exam was followed at times by a brief interview with questions such as "tell me about your strengths and weaknesses." Interviews in this case were neither audio- or video-recorded, despite the city's capability to do so. According to testimony, Human Resources Director Anne Randazzo "knowingly decided not to record the interviews," despite procedure.
At the conclusion of the panel interviews, Tulley scored 570 points in first place, while Blanchette scored 445 points to finish in fourth place. The panelists decided to recommend Fluet, who finished second during the panel portion, to the appointing authority, former Mayor Stephen Zanni, for promotion to captain.
In January 2019, Captain Mike Hamel announced his retirement and then Mayor James Jajuga announced one captain could be promoted from the eligible list.
The city did not conduct another interview, but instead relied on the one from 14 months earlier in November 2017. Sheehy, Randazzo and Assistant Chief Bill Barry discussed the vacancy and decided to promote Tulley and bypass Blanchette because, according to Sheehy's testimony, of her poor interview performance a year earlier.
'Remedy the injustice'
The City Council was expected to vote on Tulley's appointment to captain Feb. 4, 2019. Two weeks prior to the meeting, Blanchette wrote a letter to the City Council and Jajuga arguing that issues of gender inequity played a role in her being passed over. She asked that the city "remedy the injustice."
Members of the City Council at the time were McCarty, Steven Saba, Eunice Zeigler, Jessica Finocchiaro — all of whom currently sit on the council — and Kannan, Joyce Campagnone, Lynn Vidler, Ryan Hamilton and George Kazanjian.
The mayor's office sent Sheehy a copy of the complaint prior to the meeting. Sheehy testified he did nothing wrong and said he did not discuss it with Randazzo, who was also the assistant city solicitor. Randazzo — who was also Methuen's designated equal opportunity officer — testified she never read the complaint or undertook her own investigation, nor did she refer it to an outside investigator.
Councilor McCarty voted on the appointment and did not recuse himself or make mention of his relationship to Tulley. Neither the council nor the mayor asked any questions of Sheehy about Blanchette's complaint. Tulley's promotion was approved by the City Council.
McCarty said this week he did not need to make mention of his relationship to Tulley and was able to vote on matters related to the issue because he reached out to the state ethics commission and was told there was no conflict of interest.
Not the first time
This is not the first time a female firefighter has been passed over for a promotion. Firefighter Susan Vallera testified that she topped the civil service list for a promotion to lieutenant and was interviewed, but looked over twice in 2012. She was never informed by the city of the reasons, she said. Vallera was later selected for a promotion in mid-2019, but only after Blanchette filed her discrimination complaint.
The commission took issue with the fact that interviews were not recorded and said the City Hall interview panel was not independent.
"The process was fatally flawed," Ittleman said.
Commissioners are giving the city until Jan. 18 to decide on how it wants to handle Blanchette's promotion.
___
(c)2021 The Eagle-Tribune
McClatchy-Tribune News Service