The 6 best firefighting movies of all time
Can you guess No. 1? (Spoiler alert: It's not 'Backdraft')
---
It's up for debate whether the "best firefighting movie" has actually been made yet. The Hollywood take on firefighters' lives shows a much different picture than what a true firefighter deals with day in and day out. Real firefighting – equipment checking, navigating smoke-filled rooms and hallways, digging firebreaks and doing paperwork – may not captivate an audience's attention like a Hollywood dramatization. 
Nonetheless, we're going to take a stab at naming the best. We just have to remind ourselves these aren't training videos – they're pure entertainment. Here's our list of the six best firefighting movies of all time. 
6. Ladder 49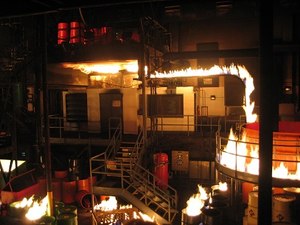 "Ladder 49" details the life of rookie firefighter Jack Morrison as he rises through the ranks in his department. His personal dilemmas unfold as he becomes trapped in the worst blaze of his career. FireRescue1 contributor Jason Zigmont offers commentary about the movie from a firefighting and technical perspective: "The technical advisors did a good job with the scenes. I was impressed to hear a PAR check." 
5. Fire! Trapped on the 37th Floor
Even for a TV movie, this one gets our vote. The movie is based on true events that occurred in May 1988 when the Los Angeles First Interstate Bank building caught fire. At the time it was the tallest building in the city. Smoke alarms were not working properly, which allowed the fire to grow until it was uncontrollable. 
4. Crash Landing: The Rescue of Flight 232
Another movie based on a true story, "The Rescue of Flight 232" is based on United Airlines Flight 232 from Denver to Chicago. The flight crashed during an emergency landing in 1989. Even though the focus isn't entirely on firefighters responding to the situation, the perspective from the ground rescue workers is noteworthy. 
3. Backdraft 
We'd be remiss not to include "Backdraft." You may be surprised it doesn't rank higher on the list, but because people constantly ask if a firefighter's job is like "Backdraft," it gets docked a few points. "You go, we go." 
2. Hellfighters
This is a movie about Chance Buckman, head of an oilfield firefighting outfit, and his professional and personal ebbs and flows. Full disclosure: You'll either love this movie or hate it. In fact, when the movie first came out, Roger Ebert said it was a "slow moving, talkative, badly plotted bore." But we think it's a pretty great fire-based movie. John Wayne, who plays Buckman, will always get our vote. 
1. The Towering Inferno 
"The Towering Inferno," in our opinion, is the best firefighting/disaster movie out there (even if it's the most unrealistic fire movie on the list). Steve McQueen … Paul Newman … Faye Dunaway. Need we say more? 
How did we do? Are we missing your favorite firefighting film? What movie do you think should earn the No. 1 spot?
This article, originally published on June 2, 2016, has been updated