FD report: George Floyd was 'pulseless, unresponsive' in ambulance
The Minneapolis Fire Department was called to assist EMS while transporting Floyd after his arrest
---
By Laura French
MINNEAPOLIS — A Minneapolis Fire Department (MFD) report states that George Floyd was unresponsive and had no pulse when its crew responded to assist EMS in transporting him after his arrest. 
The report states that MFD's Engine 17 was started "code-two" to assist EMS, which was later updated to "code-three," and that before arriving at the initial scene, the crew was only told Floyd had trauma to his mouth.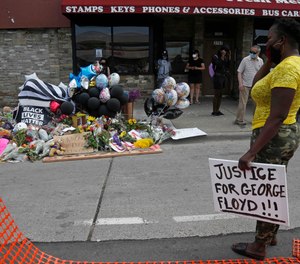 When the crew arrived, they attempted to locate Floyd and were unable to get clear information on his location from officers or bystanders outside, according to the report. They went inside a nearby store where an officer told them Hennepin County Medical Center medics had taken the patient in an ambulance and relocated from the scene. 
Crewmembers also spoke with an off-duty firefighter at the scene who told them they had seen Floyd go from struggling to unresponsive while handcuffed and restrained by officers. They then received a notification that the medics needed them "code-three" and they met with medics a couple of blocks away. 
Two MFD crewmembers went into the ambulance where medics were using a LUCAS chest compression device on an "unresponsive, pulseless" Floyd. The MFD members took over ventilation and helped prepare IV and medications, then accompanied medics to the stabilization room at Hennepin County Medical Center. 
The report states that "medics performed pulse checks several times, finding none, and delivered one shock by their monitor." The report indicates that Floyd's condition did not change following the shock. 
MFD crewmembers then helped bring Floyd into the stabilization room and continued ventilation until relieved by ER staff. 
Floyd died shortly after being taken into custody by Minneapolis police; according to the police department, he was stopped on suspicion of forgery and resisted arrest. In a widely-circulated bystander video of the arrest, an officer can be seen kneeling on Floyd's neck as he says he cannot breathe. The four officers involved in the arrest have been fired from the police department. 
Floyd's death sparked massive protests, during which five people were shot, one fatally. Fires also broke out during the protests. 
Read the full report below: