Minneapolis fire chief: 'We are being very, very cautious' during riots
Chief John Fruetel explains scene safety must be established before fire attack operations are tenable
---
By Janelle Foskett
The chief of the Minneapolis Fire Department (MFD) discussed the department's operational approach amid riots that resulted in more than a dozen structure fires in the city, including a police precinct station that was set ablaze Thursday night.
Fire Chief John Fruetel explained in an interview with CNN the dangers facing MFD crews during the riots, which were prompted by the death of George Floyd during his detainment by Minneapolis police on Monday.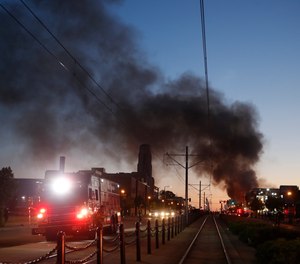 With the police precinct station burning, many are looking for firefighters.
"We tried to get into that area [where the precinct was burning], and it was determined at that time that the scene was untenable," Chief Fruetel said. "We have to really consider the safety of our firefighters in those areas. We are being very, very cautious."
Fruetel said fire crews have had projectiles thrown at them the last two nights of riots, and many of the windows of his chief's vehicle are broken from rocks. He reiterated that the safety of firefighters is his number one priority, and he will evaluate the area where the police precinct is burning to determine if it's safe for crews.
"If we can go in and attempt to make a fire attack in that structure, we will," he said.
Fruetel said it's a challenging time right now, and the department is short-staffed, not due to the pandemic but rather how the department defines its response. "Normally we would send more fire trucks on a typical structure fire; we've sort of whittled it down a little bit to give us more apparatus to respond to multiple fires." He added: "We've got a number of crews ready to respond in these areas. They've been doing a very effective jobs the last couple of evenings."
The chief said the fire department is in constant communication with police and EMS, and agencies are sharing information at the emergency operations center.
Police are escorting fire crews to fire scenes, establishing a perimeter to allow firefighters to conduct firefighting operations.
"We have 10 task forces set up," Fruetel shared. "We have 10 crews basically – two engine companies, which are pumper trucks and one hook and ladder, and two command staff, plus they'll be escorted by law enforcement."
Fruetel assured Minneapolis residents that they should be vigilant, but the department is still here for them and residents should call if they need help. "I want them to know that the fire department is here, we're stood up, and we are going to make sure we provide the best quality protection we can to those folks."
[Next: Minneapolis 'war zone': FFs respond to 30 arson fire incidents amid protests]