Detroit fire union files unfair labor charge over lights and sirens policy
The Detroit Fire Fighter Association claims a controversial policy that dictates when lights and sirens can be used is a "public safety failure"
---
DETROIT — A firefighter union has filed a labor charge over a new, controversial lights and sirens policy.
Detroit News reported that the Detroit Fire Fighters Association contends the city violated its duty to bargain under the Public Employment Relations Act when a policy that dictates when firefighters use lights and sirens was unilaterally imposed.
Union President Mike Nevin said the policy is a "public safety failure," and he will "not stop until it's corrected."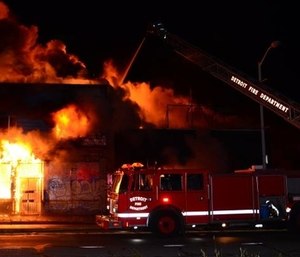 "This just shows the absolute disregard for the bargaining unit and the public," Nevin said. "The mayor better take a good, hard look at what's going on here. I'm not playing around."
The new system classifies runs by two codes: an emergent run code, which uses lights and sirens, and a non-emergent code, which does not.
Detroit Fire Commissioner Eric Jones implemented the policy in August, and argued that using lights and sirens to disregard traffic signals for every single call is unnecessarily dangerous.
Detroit Corporation Counsel Lawrence Garcia said the labor charge was "baseless," despite the union's detailing of dozens of runs that have been dispatched improperly since the policy was put into place.
"The new policy keeps firefighters and the community safer and is supported by FEMA and the International Association of Firefighters," Garcia said. "The policy change in question does not violate the collective bargaining agreement in any way, and the fire commissioner and his administration were well within their authority to implement it."