Survey results: Do firefighters support the display of thin red line flags?
FireRescue1 readers weigh in on thin red and blue line flags, which invoke disagreement over policy, politics and how to best honor the fallen
---
With the recent controversy over the display of thin red line flags and thin blue line flags at fire departments, we surveyed the FireRescue1 community to get a better understanding of the views of the flags. We received nearly 2,000 responses, making for a strong showing of feedback about this complex issue, which invokes battles over U.S. flag code, local policies, and issues related to politics and social injustice.
[Read next: What does the thin red line flag mean?]
Who answered: Firefighters only
We surveyed only firefighters (active or retired) – not spouses, friends, family or fire fans. The results: 43% of respondents were firefighters, 28% company officers, 14% chief officers, 10% chiefs, with the balance between administrative or other roles.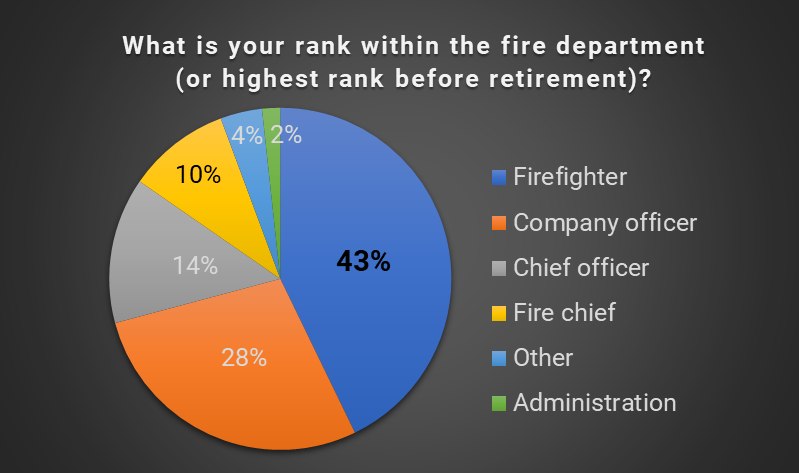 Respondents were fairly evenly divided among working for career, volunteer and combination departments.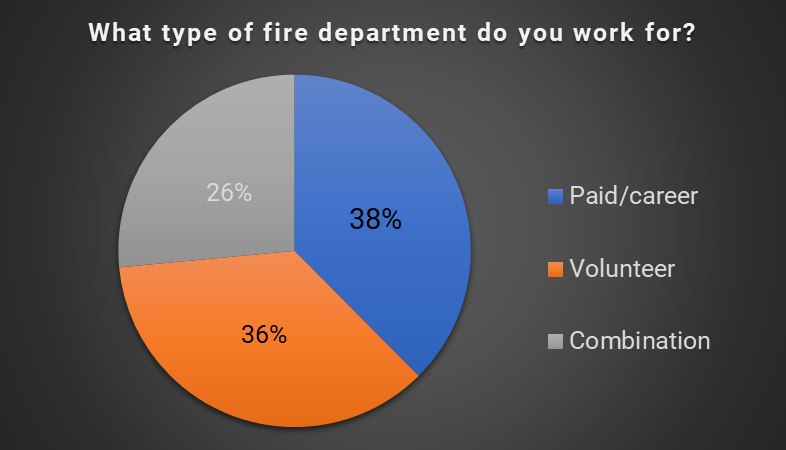 We also asked to indicate all of the locations where thin red line flag is displayed at their department. The results: Of 1,927 responses, 898 reported thin red line flags inside the station, 539 noted on the fire apparatus, 254 said outside the station, and 301 indicated another location. The second-highest number – 646, or approximately 34% of respondents – reported not having a thin red line flag displayed at their department.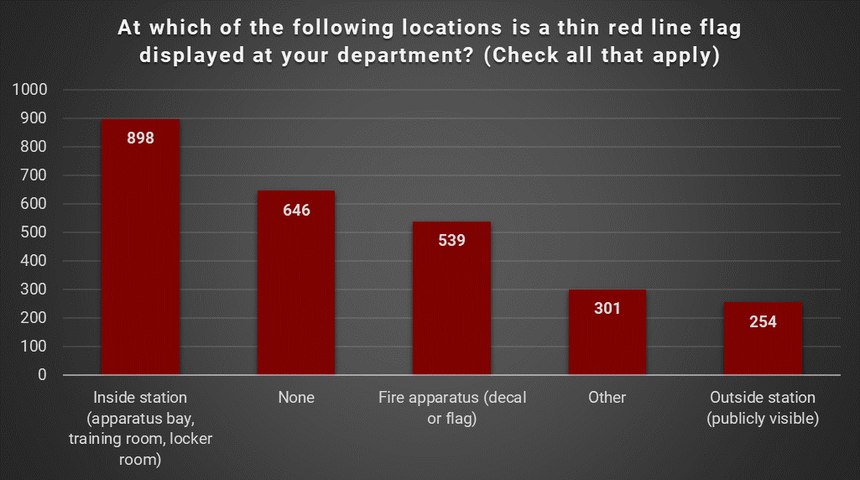 Support: Yes or no?
Now to the key question. When asked, "Do you support fire departments displaying thin red line flags at the station or on apparatus," 88% of respondents said yes – and the responses were from an even mix of ranks. Of the surveyed firefighters, 89% said they support the display of the thin red line flags, as did 88% of fire chiefs, 87% of chief officers and 86% of company officers.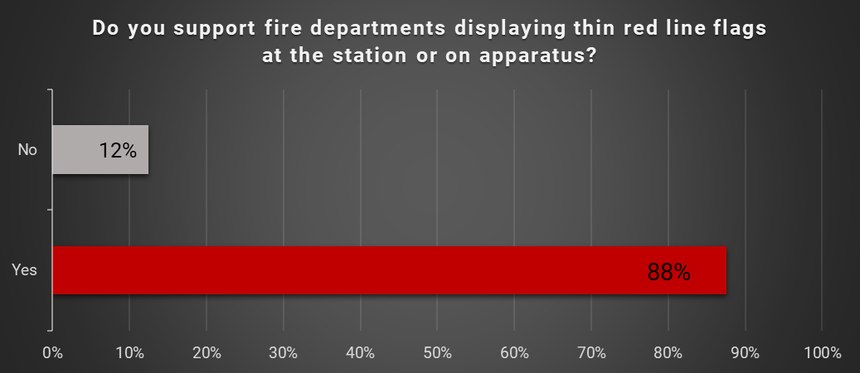 Similarly, 79% said they support fire departments displaying thin blue line flags in support of law enforcement.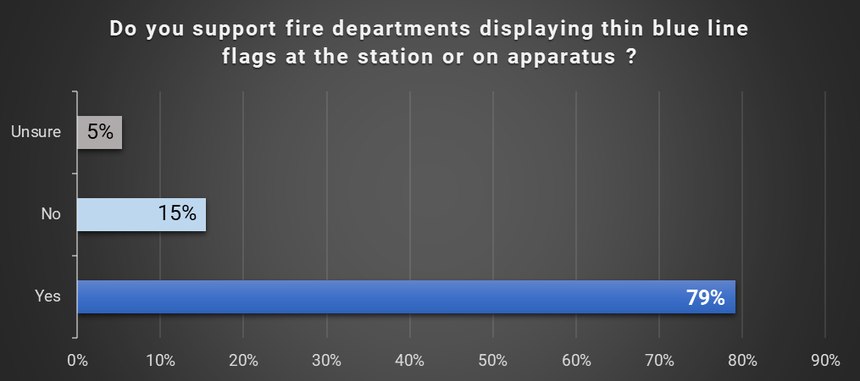 FireRescue1 Executive Editor Fire Chief Marc Bashoor noted that he's not surprised by the number of departments currently flying thin line flags, but recommended thinking twice about such displays, considering what the flags may signal to the community: "I obviously support all of our public safety paid and volunteer professionals; however, the inflammatory nature of this issue should give some pause, especially for those who are working their role as an inspirational politician."
We asked respondents their top reason for supporting the display of thin red line flags. The results: 68% of respondents said the flag honors fallen and injured firefighters, 25% said the flags signify solidarity of membership, and 4% said the flag connects us to the community.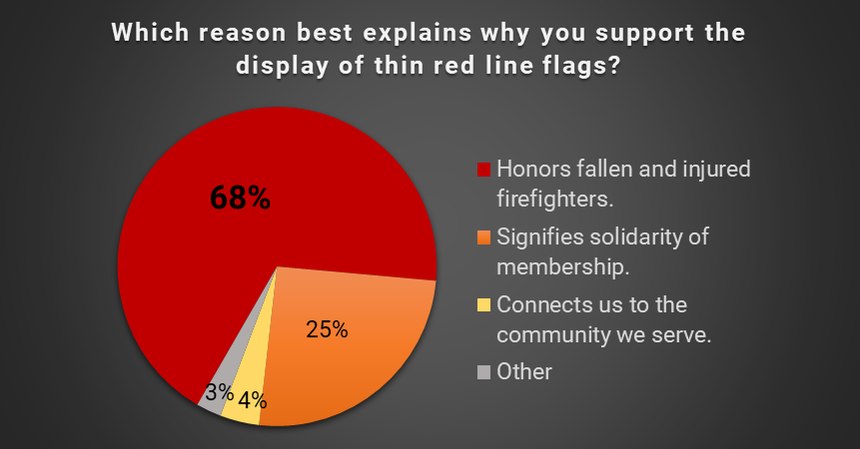 For those who answered no – they do not support the display of thin red flags at fire departments or on apparatus – 68% said the primary reason was because it was an alteration of the American flag. Another 9% said it doesn't represent the values of the fire service, 7% said it disrespects the community, and 5% said it violates policies that forbid displaying political messages on government property. Another 11% selected "Other," underscoring the complexity of the issue, as there are clearly reasons not even included in this list.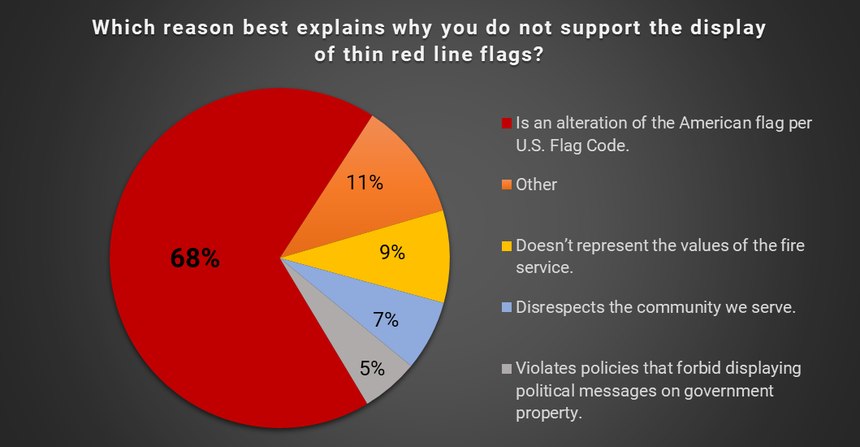 A staunch constitutional and code supporter, Bashoor found himself agreeing with the 68% of respondents, underscoring that, to him, the flag code is clear in that no other colors should adorn the flag: "If you're going to allow any alteration, then you'd have to allow all of them. The symbolism of the original 13 colonies made by those 13 red and white stripes is a powerful connection to our nation's founding. If you want to show support with a thin red line on a black or other color background to show support for our fallen and our solidarity, I could get behind that, but not the United States flag."
Deputy Chief Billy Goldfeder underscored the need to remember that these are not "our" fire trucks: "They were paid for by, and essentially belong to, everyone in the community, so if there is a chance that our good intentions of support could be perceived as a negative action or statement, (especially these days) why not avoid that?"
Policies and procedures
In many of the news reports we've seen about this issue, departments and cities that have ordered the removal of the thin line flags have done so citing the policy piece. They note that the flags violate policies that forbid displaying political messages on government property.
Our survey revealed that only 35% of respondents said their department has a policy that relates to the display of flags, decals and emblems, while 50% said they do NOT have a policy in place and 15% were unsure. Most of the departments that do have policies are career departments.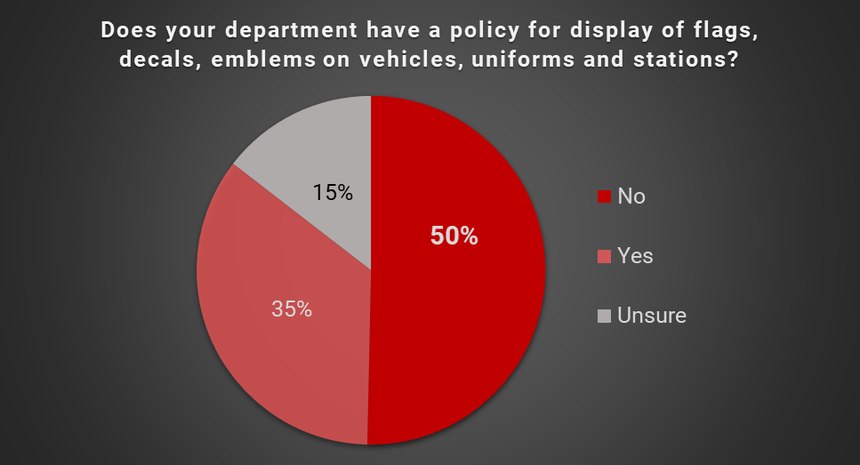 Goldfeder was not surprised: "Once again, we learn about an issue that should be addressed by policy well ahead of the issue," adding, "How does a chief know what policies to have? Can everything be 'policied'? Of course not, but if you read about a national headline-making event impacting another fire department or chief, consider that a 'tap on the shoulder' to determine if your organization has (or needs) a policy addressing that specific issue. We certainly don't need any more unnecessary and predictable headlines."
The policy issue is a complex one, as the policy may prohibit display of political messages, yet many firefighters do not see the flags as political in nature.
Community comments
As you can imagine, this issue generated a lot of conversation on our Facebook page:
Bill wrote: "In no way does a thin line flag disrespect our American flag. It is its own flag that takes design cues from the American flag. Now, if you took an American flag and physically altered it, that would be a problem."
David had a different perspective, writing: "That flag pushes an illegitimate narrative and should not be on any official vehicle. It is not your vehicle; it belongs to the public."
This is just the tip of the iceberg for the discussion.
It should be noted that we also asked respondents whether they believe their fire department is demographically representative of the community it serves, as one of the biggest sticking points of this issue is the belief that some in public safety don't understand the political or social undertones of the flags. Nearly 80% reported that they believe their departments to be demographically representative of the community, while 10% reported that do not believe their departments to be demographically representative of the community.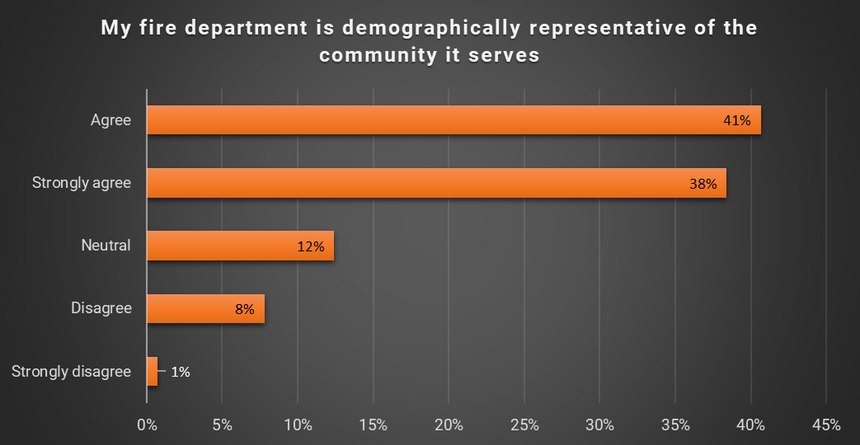 Final thoughts
Goldfeder highlighted the complexity of the issue and proposed another approach: "While I get really bothered when someone writes a single letter and then everyone at any city hall instantly loses their minds (think: the sky is falling!) and everything has to be totally changed, I certainly get the sentiment over the issue in supporting a member of the fire or police service. There are better ways to express support so the entire community sees it. Why not make signs, stickers, shirts, etc., in support of a specific fallen or otherwise needy Brother of Sister in the public safety community?"
Bashoor offered closing thoughts on the topic, noting the complicating factor of politics in the discussion: "History and tradition in the fire service is a strong measure of our solidarity. So should be the respect of history for the United States flag. Take the flag out of the red line discussion – and it would be great if we could take the politics out of the whole discussion. But in 2020, I suspect that's a stretch to ask."
We appreciate your feedback on this survey.