California captain launches "Firefighters in Fire Trucks Getting Ice Cream" video series
Video series will feature Quinalty interviewing fire service leaders about hot topics in the industry
---
By FireRescue1 Staff
RANCHO CUCAMONGA, California — Jesse Quinalty of Red Helmet Training is producing a monthly series of fire service videos based on the acclaimed "Comedians in Cars Getting Coffee" with Jerry Seinfeld. This new series is titled "Firefighters in Fire Trucks getting Ice Cream," and much like the show produced by Seinfeld, it is completely unscripted discussions, only these guests are discussing hot topics in the fire service, like culture, tactics, modern fire behavior, cancer, PTSD and more.
Quinalty was teaching at a fire conference in Nashville last year when the idea came to life while hanging out with fellow presenters like Don Abbott, Paul Strong and Steve Prziborowski. "There are so many great nuggets you get from instructors while hanging out in the hallway or catching a quick meal – nuggets that should be captured on video," Quinalty states.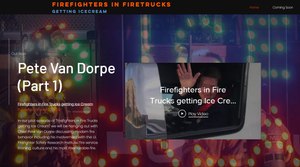 In the pilot episode, Quinalty grabs some ice cream with Chief Pete Van Dorpe, fire chief of Algonquin Lake in the Hills Fire Protection District in Illinois.
The series is being recorded as Quinalty teaches at conferences and events throughout the country. He has recorded seven episodes with other guests, including Jarod Sergi, Steve Prziborowski, Kevin Ward, Dave Emmanuel, John Salka, Phil Jose and Jeff Dill.
Fire engines used for the show have included a 1972 Crown Firecoach originally used as Pumper 27 for the Los Angeles City Fire Department and a 1956 International/Howard Cooper pumper that was borrowed from the Oregon Fire Museum – and the pumper kept breaking down on the way to get ice cream.
A new episode will be published on the first of every month at FireIceCream.com.

Request product info from top Fire Apparatus Accessories companies
Thank You!