PRESS RELEASE
Oshkosh Fire and Emergency Vehicle Sales Surge in China
---
Company has sold over 100 vehicles throughout the country in the past 12 months.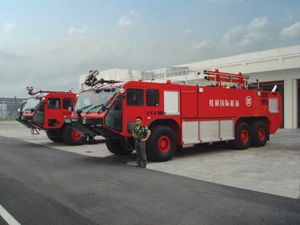 Oshkosh, Wis. – The Fire & Emergency segment of Oshkosh Corporation (NYSE:OSK) announced today that it has sold over 100 Pierce® fire trucks and Oshkosh® airport vehicles in China during the fiscal year that ended on September 30, 2011. The first group of Oshkosh Fire & Emergency vehicles sold in China was delivered in June 2010.
China's continued urbanization and economic growth translate into an increasing need for fire protection at airports and municipal/industrial areas throughout the country.
"From engineering to production, we are fully committed to our customers' satisfaction and we are honored that Oshkosh was selected to provide these vehicles," said Jim Johnson, Oshkosh Corporation executive vice president and president, Fire & Emergency. "The Oshkosh and Pierce brands continue to experience acceptance and growth on the world stage due to their high quality and superior performance. China is an excellent example of the momentum we have seen for innovative and world-class fire apparatus and airport snow removal vehicles. And our in-country customer support team stands ready to provide world-class after sales service and parts support across China."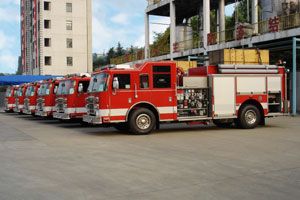 In the municipal, industrial, and oil & gas sectors, Pierce's advanced high technology fire trucks are well suited to meet China's needs. Pierce custom vehicles sold within China over the last 12 months include high-rise pumpers, aerial ladders and industrial pumpers, which will be deployed in fire departments across multiple provinces in China.
Oshkosh Airport Products vehicles, including aircraft rescue and fire fighting (ARFF) and snow removal vehicles, provide protection enabling smooth airport operations under all weather conditions and emergency situations. Oshkosh airport vehicles sold in China during this time period include H-Series™ airport snow removal trucks and Striker® ARFF trucks.

About Oshkosh Corporation Fire & Emergency Segment
Known for safety, quality and leading edge technology, the Oshkosh Corporation Fire & Emergency segment designs and manufactures a full line of fire apparatus, mobile medical, broadcast communications, recovery, law enforcement and homeland security vehicles. Brands under the F&E Segment include: Pierce®, Oshkosh® Airport Products, Medtec®, Oshkosh Specialty Vehicles, Frontline™ and SMIT™.
About Oshkosh Corporation
Oshkosh Corporation is a leading designer, manufacturer and marketer of a broad range of specialty access equipment, commercial, fire & emergency and military vehicles and vehicle bodies. Oshkosh Corporation manufactures, distributes and services products under the brands of Oshkosh®, JLG®, Pierce®, McNeilus®, Medtec®, Jerr-Dan®, Oshkosh Specialty Vehicles, Frontline™, SMIT™, CON-E-CO®, London® and IMT®. Oshkosh products are valued worldwide in businesses where high quality, superior performance, rugged reliability, and long-term value are paramount. For more information, visit www.oshkoshcorporation.com.