PRESS RELEASE
Pierce Delivers Four Quantum Pumpers to the San Antonio, TX Fire Dept.
---
Performance, standardization and response capability greatly enhanced with a frontline fleet now comprised of 55 Quantum apparatus.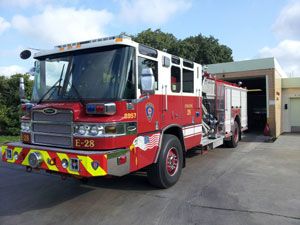 APPLETON, Wis. – Pierce Manufacturing, an Oshkosh Corporation (NYSE:OSK) company, today announced that it has delivered four Quantum® pumper vehicles to the San Antonio Fire Department (SAFD) in San Antonio, Texas. The department's frontline apparatus fleet now features 55 Pierce® Quantum chassis vehicles including pumpers, aerial ladders, aerial platforms, and heavy-duty rescue configurations.
"With our new Quantum engines, much of the emergency equipment is securely stored in compartments inside the cab, where firefighters have easy and quick access," said Fire Chief, Charles N. Hood, of the San Antonio Fire Department. "By standardizing our fleet around the Quantum, maintenance and training are simplified, and this is an advantage in keeping our vehicles in service and on the job for our firefighters and the citizens of San Antonio."
"It's very rewarding to see the Pierce Quantum chassis selected as the frontline apparatus by leading departments such as the San Antonio Fire Department." said Jim Johnson, Oshkosh Corporation executive vice president and president, Fire & Emergency. "The Quantum has proven itself as an excellent vehicle for its room, visibility, and ride quality – so much so that departments have chosen to standardize their fleets around its capabilities."
Each of the four new San Antonio Quantum pumpers is equipped with a 500 hp EPA 2010 certified engine, TAK-4® independent front suspension, Command Zone™ advanced electronics, seating for six firefighters, and side roll and frontal airbag protection. The vehicles also feature a 500 gallon poly water tank, a top mount pump panel, a Husky™ foam system, a Hercules™ CAF system, an EMS cabinet inside the cab, a rear vision camera, and a wide array of compartments with adjustable shelves.
"We're a progressive, full-service organization, and the Pierce® Quantum has proven itself to be a safe, effective, and comfortable vehicle that meets the requirements of our department," added Chief Hood. "Our service area includes everything from congested highways to a sprawling urban interface and everything in between. The Quantum chassis helps our firefighters consistently perform at a high level."
Founded in 1891, the San Antonio Fire Department has built a strong reputation for providing comprehensive fire and emergency services to the citizens of San Antonio. From fire suppression and emergency medical services, to an emphasis on fire prevention and safety education, the department works diligently to meet the changing needs of its community.
The local Pierce dealer, Siddons-Martin Emergency Group of Houston, Texas, provides service and support to the San Antonio Fire Department.
 
About Pierce Manufacturing
Pierce Manufacturing Inc., an Oshkosh Corporation [NYSE: OSK] company, is the leading North American manufacturer of custom fire apparatus. Products include custom and commercial pumpers, aerials, rescue trucks, wildland trucks, minipumpers, elliptical tankers, and homeland security apparatus. In addition, Pierce designs its own foam systems and was the first company to introduce frontal airbags and the Side Roll Protection system to fire apparatus. To learn more about Pierce, visit www.piercemfg.com
About Oshkosh Corporation
Oshkosh Corporation is a leading designer, manufacturer and marketer of a broad range of specialty access equipment, commercial, fire & emergency and military vehicles and vehicle bodies. Oshkosh Corporation manufactures, distributes and services products under the brands of Oshkosh®, JLG®, Pierce®, McNeilus®, Medtec®, Jerr-Dan®, Oshkosh Specialty Vehicles, Frontline™, SMIT™, CON-E-CO®, London® and IMT®. Oshkosh products are valued worldwide in businesses where high quality, superior performance, rugged reliability and long-term value are paramount. For more information, visit www.oshkoshcorporation.com.

Request more info from Pierce Manufacturing
Thank You!