PRESS RELEASE
Ten Oshkosh Aircraft Rescue and Fire Fighting Vehicles Sold to Aena Aeropuertos S.A. in Spain
---
New Striker 6 x 6 model chosen over top European competitors.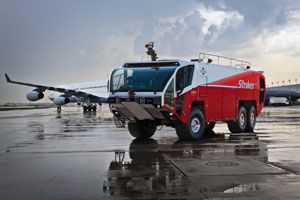 OSHKOSH, WIS. – Oshkosh Airport Products Group, a division of Oshkosh Corporation (NYSE: OSK), today announces the sale of 10 new generation Oshkosh® Striker® aircraft rescue and firefighting (ARFF) vehicles to Aena Aeropuertos S.A. of Madrid, Spain. The new Striker 6 x 6 models will be placed into service at Madrid Barajas International, as well as other major airports throughout the country. Delivery of the new generation Striker vehicles will begin in September 2012. The contract is valued at over €5 million Euros.
"This major contract is a significant breakthrough for the Oshkosh Airport Products Group, as we successfully demonstrate the strength of the new generation Striker, head-to-head, against tough competitors on the European continent," said Tim Raupp, Oshkosh Corporation senior vice president, executive director, International Operations - Fire and Emergency. "Aena Aeropuertos S.A. is among the world's largest, and most respected, airport management and operations groups and we're thrilled that they chose the new generation Striker."
Following more than three years of extensive development, the new generation Striker delivers innovative fire suppression technology, unmatched chassis performance, advanced safety systems, unsurpassed reliability and durability, and smart design. Specific features available on the new generation Striker include:
6x6 configuration with Oshkosh TAK-4® all wheel independent suspension for smooth ride
Oshkosh rear steer system to reduce tire wear and improve turning circle
Turbo charged, 700HP, Tier 4i/Euro 5 emissions compliant engine
11,356 liter (3,000 gallon) water tank capacity
Walk-in engine power pack access through doors on each side of the engine compartment
Oshkosh low attack bumper turret with high flow discharge and dry chemical capabilities
Structural firefighting system with crosslay discharges at both sides of the truck
Dual-Agent swing-out hose reel in a lower compartment
All new cab design with increased glass area for improved driver visibility to all directions
Segregated vehicle, fire suppression and lighting system controls
Intuitive, color-coded controls for fire suppression system and easily identified cab switches
Two monitor screens in the dash to view the FLIR system, backup camera and Command Zone® advanced electronics system
Oshkosh vehicle data acquisition system
Larger roll-up compartment doors and increased overall compartment space for enhanced access to equipment and fire suppression system
Aena Aeropuertos S.A. manages 47 airports and two heliports in Spain and participates directly and indirectly in the management of 28 more airports around the world. It is the world's leading airport operator in terms of passenger numbers, handling nearly 200 million each year.
About Oshkosh Airport Products
The Oshkosh Airport Group, a division of Oshkosh Corporation, is a designer and builder of industry-leading airport firefighting and snow removal vehicles. Its flagship Striker® Aircraft Rescue and Fire Fighting (ARFF) vehicle and Oshkosh® H-Series™ snow removal chassis are known for their durability and superior performance and sold throughout the world. For more information, visit www.oshkoshairport.com.
About Oshkosh Corporation
Oshkosh Corporation is a leading designer, manufacturer and marketer of a broad range of specialty access equipment, commercial, fire & emergency and military vehicles and vehicle bodies. Oshkosh Corporation manufactures, distributes and services products under the brands of Oshkosh®, JLG®, Pierce®, McNeilus®, Medtec®, Jerr-Dan®, Oshkosh Specialty Vehicles, Frontline™, SMIT™, CON-E-CO®, London® and IMT®. Oshkosh products are valued worldwide in businesses where high quality, superior performance, rugged reliability and long-term value are paramount.  For more information, visit www.oshkoshcorporation.com.