PRESS RELEASE
Texas Volunteer Firefighter Receives an Extreme Home Makeover
---
Family lost home in Bastrop wildfire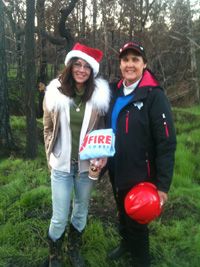 Bastrop County, TX - When the Bastrop wildfire slammed Texas in September, volunteer firefighterMizzy Zdroj was there battling the blaze. But while she was trying to save the homes of her fellow Texans, her own home was destroyed by the fire. Yet tragedy turned to joy in December when the Zdroj family received a new home courtesy of ABC's Extreme Makeover: Home Edition and builder EFCCustom Homes of Bastrop.
The build was accomplished thanks to the power of more than 3,000 volunteers, including volunteer firefighters and Fire Corps members. The National Volunteer Fire Council (NVFC) and Fire Corps Texas State Advocate JeanieFossati helped put out the call for volunteers.
In addition to getting a new home, Zdroj's fire department – the Heart of Pines VolunteerFire Department – also received a makeover. The department was hit hard by the wildfire, so the ABC show decided to remodel the station. Corporate supporters donated much-needed gear and equipment to the department, including a 2001 Ford brush truck from BrindleeMountain Fire Apparatus, turnout gear fromNVFC partner Globe Manufacturing, two-way radios from Motorola, and more. Texas Engineering Extension Service (TEEX) donated scholarships to the entire department to attend the annual fire school.
The community also raised more than $12,000 to present to the Zdroj family, and Concordia University donated scholarships for all three Zdroj children.
The episode will air as an Extreme Makeover: Home Edition holiday special in December 2012.
Stay tuned for the January issue of the Fire Corps E-update for more about the build event. 
Find photos on the Globe Manufacturing page on Facebook and on the Brindlee Mountain Fire Apparatus page on Facebook.