PRESS RELEASE
Zico Introduces Hydraulic Hard Sleeve System
---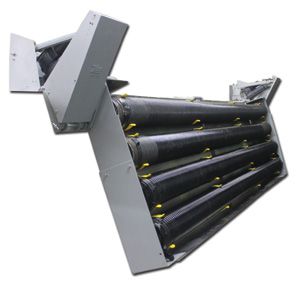 YARDLEY, PA – Ziamatic Corp. (Zico) introduces the Hydraulic Hard Sleeve System, Model HS-HA - a safer, easier, and more space efficient way to store two to four, 5" or 6" hard sleeves over the side compartments of an apparatus. At the flip of a switch the system lowers the hard sleeves to a convenient height for quick, easy, and safe retrieval.
Two self-contained hydraulic actuators provide increased strength and reliability and create a more even, parallel operating motion; allowing for the direct mounting of a hard cover without the need for additional hardware or adapter kits. The rugged, cast aluminum system sustains a maximum load of 500 pounds and can accommodate an additional hard sleeve mounted directly to the top of the box. Up to five hard sleeves stored within one system!
Available now in various sizes for installation on new or existing apparatus. Works great in tandem with the Ziamatic Hydraulic Portable Tank System.
For mounting a single hard sleeve directly to the top of the box, ask for the Horizontal Hard Suction Kit, Model HHS-TM-1. An adapter plate kit, Model PTS-HA-ETA is also available for mounting the HA-HS beside an elliptical tank. Both accessories sold separately.
NFPA compliant. Prices start at $4,576.20. For more information please call 1-800-711-FIRE or visit www.ziamatic.com.
About Ziamatic Corp.
Ziamatic Corp. (ZICO) was founded in 1958 with the intention of providing the men and women of the fire services industry with products that make their profession safer and easier. Over 50 years later Zico remains a leader in SCBA bracket and ladder rack technology. For more information, please call 1-800-711-FIRE or visit www.ziamatic.com.

Request more info from Ziamatic Corp. (ZICO)
Thank You!