How to choose the right firefighting boot (eBook)
Footwear should provide optimum agility, fit and comfort in addition to protection from fireground hazards
---
Sponsored by Globe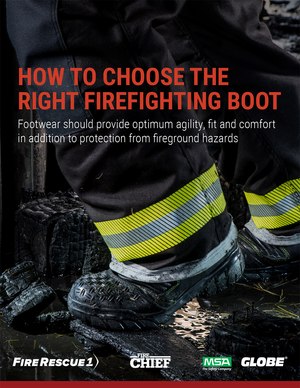 Firefighting boots need to do much more than keep your feet dry. They have to shield your feet from hazards, as well as allow sufficient comfort and dexterity to perform physically demanding work. These goals can be at cross purposes – a challenge not lost on scientists, engineers or firefighters.
Whether you are on a purchasing committee or just out to buy a better boot, your safety may depend on what's on your feet. Download this free guide to choosing firefighter boots to learn more about:
What firefighters should know before purchasing boots.
How to determine what attributes are most important to you.
How research and development over the past decade has improved both protection and functionality.
How to apply this information to your next boot selection.
Fill out the form below for your free guide.
Get the info you need to choose the right boots for the job