Look professional from head to toe – while being ready for anything
StationWear and footwear from LION along with Blackinton badges combine the best in form and function
---

By Robert Avsec for FireRescue1 BrandFocus
Form or function? A question pertinent to many jobs, but probably none more so than that of a firefighter. You want to present a positive image to the public you serve (the form), but at a moment's notice you can be involved in anything from battling a structure fire to an extrication operation at an MVC to treating a patient having an asthma attack (the function).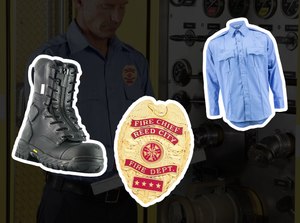 So, where do you go to get station uniforms and footwear that provide that give you both form and function?
Blackinton Badge and LION have everything you need to present that professional image from head to toe, while being able to switch to your emergency response role (Without having to find a phone booth! Superman reference?).
Don't change the shirt – change the badge
According to Sharyn Dunn, marketing manager at Blackinton Badge, "Our FlexBadge is positioned to replace embroidery patches. The FlexBadge has a more authentic look – it looks like a metal badge – and has a more polished look than the typical embroidered patch badge."
The FlexBadge from Blackinton Badge not only looks like a real badge, it is comfortable and doesn't buckle like embroidery. It also provides a great uniform option. Got a rank change? Congratulations! Now, what to do with those uniform shirts that have an attached embroidered badge showing your former rank?
With FlexBadges, you can simply order a new badge with a Velcro backing and apply it to your current uniform shirt or job shirts. No need to order new uniform shirts every time you get a promotion.
Get the badge you want for your fire department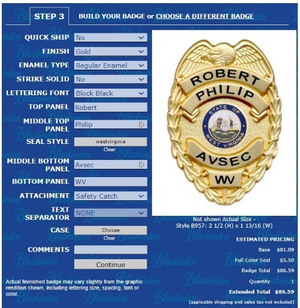 Both FlexBadges and metal badges from Blackinton can be customized to a fire department's specifications using any one of Blackinton's 1000+ badge designs. Using its online badge design tool, the Blackinton Badge Builder, you pick your badge design and finish, enter the text you want in the available panels, select a center seal, and voila!  – you have the exact badge you want. (Available text panels vary by the badge design you choose.)
A normal order routinely ships in three to four weeks from the receipt of order by Blackinton. But with Blackinton's QuickShip Badges," a fire department can have their order shipped from Blackinton within five business days after they receive your order, or your order is free!
"With QuickShip, a fire department can select from one of our 21 most popular metal badge designs," said Dunn. "We've dedicated a portion of the factory floor to the program allowing us the ability to offer a cost-effective way to make a quality personalized badge in a shorter amount of time."
Another cost-saver for smaller fire departments, particularly volunteer-staffed departments, says Dunn, is that if a fire department places an order for 25 or more badges, they can further personalize their badge with a free custom center seal created at no additional cost.
LION StationWear looks sharp while offering comfort and protection
You might only be familiar with LION based on its experience providing PPE turnouts, and hoods, but LION's StationWear line offers fire departments a wide range of military-style uniform shirts (short sleeve and long sleeve), pants, and outerwear. Fire departments can select from fabric options that include, Nomex, poly/cotton, Tecasafe, and 100% cotton. A popular example is the Bravo uniform shirt series which gives the wearer a traditional military look with sewn-in creases , a seven-button dress front placket, scalloped three-point flaps with hook and loop closure, a pen slot, shoulder epaulets and an interior sling badge holder.
The Bravo Shirt is available in Nomex, poly/cotton, Tecasafe, or a 100% cotton fabric. All but the poly/cotton are compliant with NFPA 1975: Standard on Emergency Services Work Clothing Elements.  Depending on fabric, the Bravo Shirt is available in medium blue, dark navy blue and white.  
Station footwear that never clocks out
In 2019, LION and the Weinbrenner Shoe Company, employee-owned manufacturer of Thorogood brand footwear, entered a long-term strategic partnership that's enabled LION to exclusively offer the outstanding line of Thorogood boots to the fire service.
One of those outstanding boots, designed for station wear and non-structural firefighting responses, is the LION by Thorogood 9" Station 1 EMS/Wildland Leather Boot, available in a full range of sizes and widths for both women and men. These hard-working boots never clock out, even if your shift turns into a double. Some of the key features of these comfortable, durable StationWear boots are:
Thorogood's exclusive Vibram ATS (All-Terrain Sole) that provides exceptional traction on any surface.A GORE CROSSTECH triple-layer moisture barrier that's the toughest in the industry, offering protection from liquids and blood-borne pathogens.
Safety features that include a flexible Lenzi L-Protection puncture-resistant insole, steel triple-rib ladder shank and a composite safety toe (giving firefighters the impact protection they need without the cold or weight of steel).
Compliant with NFPA 1999: Standard on Protective Clothing and Ensembles for Emergency Medical Operations, and NFPA 1977: Standard on Protective Clothing and Equipment for Wildland Fire Fighting.
Because firefighters need to look professional while being ready for anything, for the best in form and function, turn to LION for StationWear uniforms and boots and Blackinton for badges.

Request information from Witmer Public Safety Group, Inc.
Thank You!