'Personal Rescue System' debuts at FDIC, stows in pants pocket
---
By Jamie Thompson
FireRescue1 Editor
INDIANAPOLIS — Having a personal escape system that's ready to be deployed at a moment's notice can be critical to firefighter safety.
It was this notion that Lion Apparel says led to the creation of its Personal Rescue System, which debuted at FDIC in Indianapolis.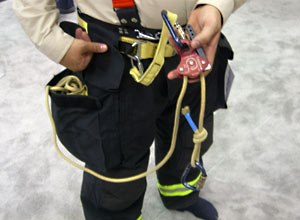 Dennis Magill, Lion Apparel regional sales manager and co-developer of the system, said the device integrates all escape components and stows them in a removable, split bellows cargo pocket on the leg of turnout pants.
These escape components include a 50-foot escape line, descender, two carabiners, a quick link and a tether, and the system can be deployed using any Class II life safety harness or escape belt.
"Most of the systems out there are added on to the garment, which adds profile and weight," Magill said from the show floor.
"With this, once you don your gear it's always on and is ready to go — those extra seconds could be life or death."
With the system stowed in the split bellows cargo pocket, it means the rope does not become entangled with the other hardware. A frame of Velcro fastens the pocket securely at the pants leg, but detaches to become a "throw-bag" so the rope deploys completely.
The Personal Rescue System can be retrofitted to any manufacturer's turnout pants, Magill said, and works with any Manufacturer's Class II harness or escape belt.
"The feedback from people at the show has been very positive," Magill said.
"This system is ready to go for the IDLH scenario that will hopefully never happen."

Request product info from top Fire Jackets and Coats companies
Thank You!