PRESS RELEASE
Bates Footwear Introduces Code 6, the Lightest, Most Breathable Tactical Boot with Optimal Performance and Durability
---
ROCKFORD, MI – Bates Footwear, a division of Wolverine Worldwide, announces Code 6, the lightest, most breathable boot in their line of tactical footwear. Code 6 enhances comfort and decreases weight without sacrificing durability or performance.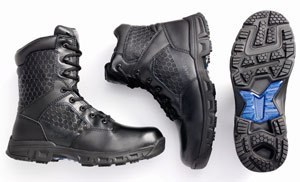 Code 6 is the result of continued improvements to current Bates technology.
"Code 6 is comfort and performance without compromise," said Eric Fracassi, Product Development Director with Bates. "We improved every aspect of a tactical boot. We were able to decrease weight and increase the durability of the boot by incorporating contemporary design with innovative materials."
Code 6 is 15% lighter than Bates Ultra-Lites, making them the lightest tactical boot available from Bates. The open-cell vapor mesh improves breathability by 30% and reduces hot spots on top of the foot. The V-fit lacing system enhances mobility by opening toward the top of the foot. High-abrasion mesh throughout the entire boot helps create optimum comfort and fit.
Combining the time-tested, traditional look of a tactical boot with athletic-inspired design cues and performance materials adds a fresh yet classic look to tactical footwear, all while maintaining—and improving upon—the quality and durability for which Bates is known.
Available in eight-inch side zip, six-inch side zip and four-inch models, Code 6 adapts to any individual's requirements and preferences.
"Aesthetically, these are the most striking boots in our line," said Fracassi. "Functionally, they're the most advanced. We improved the weight, breathability, fit, design, durability and comfort, all without compromising anything."
Code 6 will be available in retail stores, from local uniform dealers and on www.batesfootwear.com Spring 2014.
About Bates® Footwear
Bates is a leading supplier of uniform footwear to all branches of the U.S. Military and has built a reputation for uncompromising performance in uniform footwear for more than 125 years. Engineered advancements such as Code 6, Bates Individual Comfort System and Bates DuraShocks® technology combine to set the brand apart and cement its status as the gold standard in uniform footwear. For more information and to view the product lines please visit www.batesfootwear.com.