PRESS RELEASE
Black Diamond Boot Featured in MONOPOLY®: Firefighters Edition Game
---
end picture
Fireman's Boot Becomes Token on Special Edition Game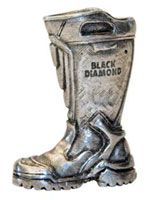 NEWTON, MA - The Black Diamond Group, a leading maker of performance protective footwear, will have its boot featured as a token in the new MONOPOLY®: Firefighters Edition Game.

MONOPOLY®: Firefighters Edition was created to honor the men and women of the fire and rescue service worldwide. Designed for firefighters, the game includes properties such as Firefighting Freeway and Probie Place. Players use fire and rescue skills as they buy and trade properties in the goal of becoming Fire Chief.

The Black Diamond Firefighter's Boot is accompanied by 5 other iconic tokens including a fireman's helmet, a fire hydrant, a fire engine, a Dalmatian dog, and a flashlight.

"We are honored to be a part of this Special Edition game.  Everyday our boots are in action with firefighters around the world, now that our boot has been selected by Hasbro as a token in the MONOPOLY® Firefighters Edition game, it can be in action while families play the iconic game," said Alan Lunder, CEO of Black Diamond.
Today MONOPOLY® is still the best-selling board game in the world, sold in 103 countries and produced in 37 languages. In the past sixty years,over 200 million MONOPOLY games have been sold worldwide.
About Black Diamond Group, Inc.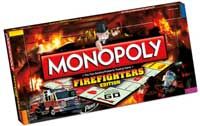 Black Diamond is a leading brand of performance protective footwear.  The company's highly acclaimed fire boots are usedbyfire departments around the world and are developed with the finest, most durable materials and components to endure the extraordinary demands placed on firefighters.  Black Diamond is the only brand in the industry to incorporate comfort and flexibility technologies in fire boots and is proudly certified by the NFPA (National Fire Protection Association.)  For further information, please visit www.bdfire.com.