PRESS RELEASE
CROSSTECH Footwear Fabric Now Available For Dual-Certified Footwear
---
use if there is a picture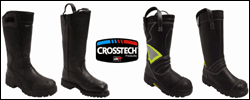 end picture
Elkton, Maryland — W. L. Gore & Associates, Inc., has improved its CROSSTECH® footwear fabric so that it enables boots to meet both NFPA 1971, 2005 edition, and NFPA 1992, 2007 edition certifications. Currently the only footwear fabric on the market that facilitates this dual certification, CROSSTECH® footwear fabric provides superior comfort because of its high breathability. Together with its outstanding protection against liquids and the common chemicals specified in NFPA 1971, it also protects against the more aggressive chemicals required for NFPA 1992 certification, such as 98 percent sulphuric acid. This fabric allows footwear manufacturers to use various materials including leather in their boot designs, which results in a lighter, better fit.
According to Bill Candy, North American footwear product specialist at W. L. Gore & Associates, the chemicals specified in NFPA 1971 are those most often encountered at fire scenes, automobile accidents, or home emergencies. "Today's first responders are frequently being called to large-scale incidents, where they unexpectedly encounter chemicals other than those specified by NFPA 1971," Candy explains. "The unique construction of this new CROSSTECH® footwear fabric prevents penetration of approximately 75 chemicals specified in NFPA 1992 along with water, blood, body fluids, and the five NFPA-1971 common chemicals. The significance of this fabric is that it provides this level of protection while maintaining breathability, which improves comfort."
Unlike rubber boots, leather boots made with CROSSTECH® footwear fabric allow perspiration vapor to escape from the boot, keeping the foot drier and cooler. Tests have shown that leather boots are as much as 2.5 pounds lighter than rubber boots, which decreases fatigue. "These responders need to be protected as they walk around the accident scene, but they need to be comfortable as well," Candy continues. "We have the engineering capability and technology to enhance the protection level of a fabric without sacrificing breathable comfort."
This new CROSSTECH® footwear fabric is currently available in dual-certified footwear from Black Diamond, Cosmas, Globe Manufacturing Company, Haix North America, Inc., STC/Lion, and Total Fire Group/Honeywell. CROSSTECH® footwear fabric is only one of Gore's family of protective barriers for first responders, which also includes GORE® CHEMPAK®, GORE-TEX®, WINDSTOPPER®, and other CROSSTECH® fabrics. For more information about Gore's family of protective fabrics, visit www.GoreProtectiveFabrics.com.
About W. L. Gore & Associates, Inc.
W. L. Gore & Associates, Inc., is a leading manufacturer of thousands of advanced technology products for the electronics, fabrics, industrial and medical markets. Perhaps best known for its waterproof and breathable GORE-TEX® fabric, the company's portfolio features a diverse array of innovations, including everything from guitar strings to life-saving cardiovascular devices. Specifically in the fabrics arena, Gore has been a pioneer in developing high-performance barrier products for use in law enforcement, firefighting, EMS, technical rescue, military, and domestic preparedness applications. Gore is headquartered in Newark, Delaware, and employs 9,000 associates in 30 countries worldwide.