PRESS RELEASE
HAIX® Announces the Release of the All New Fire Hero Xtreme
---
Lexington, KY - HAIX®, a leading manufacturer of innovative and high quality fire fighting, rescue, law enforcement, and forestry footwear announces the release of the all new Fire Hero Xtreme for structural firefighting. Two years in development, the Fire Hero Xtreme has a number of cutting edge innovations built inside.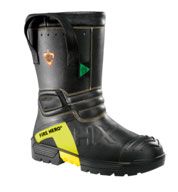 Certified to NFPA 1971-2007 and NFPA 1992-2005, the 11" Fire Hero Xtreme is constructed with HAIX's new Sun Reflect leather that reduces the heating effect of the leather by direct sunlight while at the same time providing leather that is water resistant and breathable. The lower 11" profile offers an alternate fit for those who are not comfortable wearing a taller 14" boot.
The all new Water Ice Grip System built into the sole ensures extreme slip resistance and optimal performance in water, ice or snow. The Easy Slip Out System is designed with an integrated boot jack for easy and convenient removal of your boots, especially after an especially long fire run. The CROSSTECH® inner liner features the HAIX® Secura Liner which will never pull out or wrinkle up over time and offers additional protection from chemicals and body fluids.
About HAIX®:
HAIX® is a producer of functional and innovative footwear. Our high-tech products fulfill the highest requirements regarding function, quality, comfort, and design. HAIX® is committed to providing the market with the best footwear for the fire services, rescue and law enforcement industries.  HAIX® boots are German engineered like no other boot in the world.

For more information, visit www.haix-bootstore.com.