Ride-Alongs Aid Communications Personnel Training
---
By Bob Smith
Director of Strategic Development, APCO International
Many communications centers today incorporate some form of "ride-along" program into their employee training process — enabling firefighters to show first-hand the challenges they face.
Allowing trainee telecommunicators to actually see some specific areas of their jurisdiction by spending time with one of the field agencies they work with on a daily basis benefits both parties.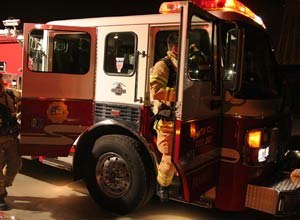 Comm centers may receive calls from people who have lived in the area all their lives, and expect everyone to know their way around just as well as they do. Longtime residents may refer to landmarks or buildings as "the bank" or "where the high school used to be." While these descriptions may mean something to the caller, they may mean little to the telecommunicator and the field agencies they dispatch.
Although computer aided dispatch systems, mapping software and other technology has enhanced the ability of comm centers to locate an incident, the need to learn geography the old fashioned way — to get out of the comm center and drive or ride around in unfamiliar areas — still exists.
This is something fire departments should play a leading role in as a dependence on technology is only advantageous as long as the technology is operating properly and accurately.
This is where a ride-along program can be beneficial. Ride-along programs pair a trainee telecommunicator with an experienced representative of the fire department or other field agency for a specific period of time as that field agency representative performs their daily activities.
This may include riding with a fire service unit as it responds to calls, an EMS unit as it performs medical transport activities or a law enforcement representative as they perform their routine patrol activities. Another alternative is to have the trainee telecommunicator ride-along with a supervisor from one of these agencies who will be able to take the time to dedicate to the ride-along and perform little to no other activities outside of showing the telecommunicator important areas of their jurisdiction.
In addition to teaching telecommunicators about their jurisdiction and the areas their comm centers cover, fire departments being proactive in offering ride-alongs allow telecommunicators to experience the operations of the field agencies they work with. They will get to see the equipment and personnel in action and see what life is like "on the other side of the radio."
Here's the steps you can take:
Fire
Fire department service areas sometimes differ from the simple political jurisdictional boundaries of cities or counties. Municipal or rural fire service districts may create areas that do not follow normal political boundaries.
Arrangements between agencies may also provide mutual aid and mutual response under certain circumstances. Telecommunicators must understand these arrangements and be able to work effectively within them.
During fire service ride-alongs some areas that may be explored are:
High-risk facilities such as high-rise buildings, historic buildings, industrial plants or facilities housing hazardous materials, etc.
Special occupancy facilities such as nursing homes, schools, day cares, hotels, etc. 
In many rural areas, ride-alongs are an opportunity to show telecommunicators where the closest hydrants are to certain facilities.
Major intersections, since many fire service dispatches will include nearest cross streets as part of the initial incident location.
High-traffic areas such as interstates, highways, etc. including mile-markers and exit/entrance ramps.
EMS
EMS service areas may vary depending on the type of service provider such as Advanced Life Support units, Basic Life Support units, fire department-based EMS, volunteer EMS and hospital-based or private ambulances. EMS providers have boundaries that may or may not conform to law enforcement or fire service boundaries.
During EMS ride-alongs, some areas that may be explored are:
Special occupancy facilities such as nursing homes, assisted living facilities, etc.
The closest hospitals and trauma centers.
In areas where EMS dispatch is based on the "closest" unit, the physical location of EMS stations and equipment.

Request product info from top Dispatch Equipment companies
Thank You!