PRESS RELEASE
Safariland debuts fire-specific communications systems at FDIC International 2018
---
Products with industry-first features for advanced communications and ergonomic operation.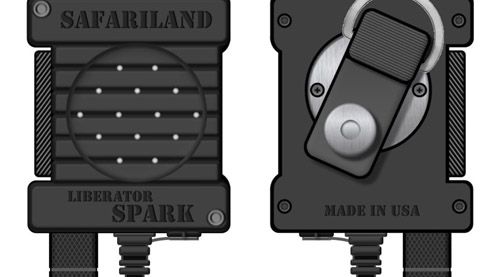 ONTARIO, Calif. —  Safariland®, a brand of The Safariland Group,focuses on fire and rescue professionals with a preview of its upcoming communication products for the fire market at the 2018 FDIC International Conference, April 23 – 28 in Indianapolis, Indiana, booth #4151. 
The Liberator™ Spark™ Remote Speaker Microphone (RSM) is a stand-alone primary radio communication system with advanced noise compression technology and industry-first ergonomically designed Push-to-Talk buttons, making it easier for firefighters to transmit communications while wearing bulky protective gloves. Also to be shown is the Liberator™ Flashpoint™ Single Communications Headset, a high temperature, state of the art headset that provides firefighters clearer audio transmissions with high definition acoustics. Both products work alone or together as a system, and are designed and manufactured in the U.S.
"For more than 20 years, we've collaborated with law enforcement and military personnel to provide world-class communications systems for real-world applications," said Brad Medine, Safariland's category director, communications. "We are the first company to combine this advanced communications technology with specific features for fire and rescue situations. Firefighters have long been at a disadvantage when it comes to the ability to reliably communicate on scene.  Our goal is to minimize injuries and loss of life caused by the inability to clearly communicate."
For the most demanding environments, the Liberator Spark RSM features two offset noise cancelling microphones and a sealed full range speaker.  It provides increased water durability, flame- and abrasion-resistant cables and a prominent Emergency Activation Button (EAB). Tested to the highest standards for thermal environments, the Liberator Spark RSM is available for all radio models. Further, this stand-alone speaker mic can be seamlessly integrated with the Liberator Flashpoint Single Communications Headset.
Specifically designed to operate in the harshest conditions, the Liberator Flashpoint Single Communications Headsetis built using high temperature polymers and has thermal and cut-resistant cables. It incorporates Active Noise Reduction (ANR) and advanced sound localization for maximum situational awareness. With the introduction of the industry-first Dual Fuel system, the headsets run on either two AAA or one CR123 battery and utilize an upgradeable and updatable software using Near Field Communications (NFC) technology.
"Through our focus groups with active firefighters, we learned the number one term said over the radio is, 'repeat' during the busiest times when fighting a fire," added Medine. "That's why our technology is a game changer for the industry. We designed a shoulder speaker mic because it's familiar, but firefighters can plug in a headset for the hot zone, enabling them to be on comms the entire time."
The Liberator Spark RSM and Liberator Flashpoint products are the first of their kind with electronic noise compression and active noise reduction. They are ideal for users that need to be able to adjust their headsets to Ambient Noise Cancellation (ANC) to reduce constant loud noise or to ANR/ANC mode to allow ambient audio, while reducing constant background noises.  Both products were engineered to meet NIST 1474 and 1477 thermal testing standards.
The Liberator Spark Remote Speaker Microphone and Liberator Flashpoint Single Communications Headset will be offered individually and as a system in black, and are anticipated for release in late 2018.
About Safariland
Established in 1964, Safariland® has earned worldwide renown and a leadership position in the industry for its technologically advanced holsters and other gear to the law enforcement, military, concealment and competitive sporting markets. Safariland holsters, belts and accessories provide users with high-quality tools to perform their jobs safely and effectively. Safariland is credited for developing the first Level III Retention™ holster for the uniformed duty market. With a reputation for INNOVATION NOT IMITATION®, the Safariland brand continues its position as the worldwide leader in retention holsters. Safarilandis a part of The Safariland Group family of brands. For more information, visit www.safariland.com/dutygear.
About The Safariland Group
The Safariland Group is a leading global provider of a broad range of safety and survivability products designed for the public safety, military, professional and outdoor markets. The Safariland Group offers a number of recognized brand names in these markets including Safariland®, Med-Eng®, ABA®, Second Chance®, VIEVU®, Mustang Survival®, Bianchi®, Break Free®, Protech® Tactical, Defense Technology®, Hatch®, Monadnock®, Identicator® and NIK®. The Safariland Group's mission, "Together, We Save Lives", is inherent in the lifesaving and protective products it delivers. The Safariland Group is headquartered in Jacksonville, Florida. The Safariland Group is a trade name of Safariland, LLC.
For more information about The Safariland Group and these products, please visit www.safariland.com.