PRESS RELEASE
RapidDeploy Opens US Headquarters in Austin
---
AUSTIN, TX, January 10, 2018 – In reaction to strong demand from its growing US customer base, RapidDeploy today is opening its US headquarters, in Austin, Texas. RapidDeploy is an innovative Cloud Aided Dispatch (CAD) platform allowing public safety officials to reduce emergency response times and improve situational awareness.
Austin Mayor Steve Adler will help cut the ribbon on RapidDeploy's headquarters, along with Mninwa Johannes Mahlangu, the South African Ambassador to the United States, and other dignitaries. Early adopter customers and key partners will offer congratulations.
"With customer demand booming and the US market longing for modern technology to replace their outdated infrastructure, it was time to move our headquarters to the US," RapidDeploy CEO and co-founder Steve Raucher said. "We'll be closer to some of our most important customers and partners, and are excited to begin this new chapter."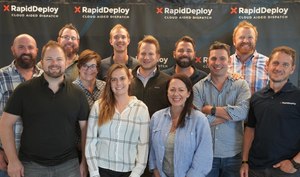 Designed by first responders, RapidDeploy uses modern cloud-based technology that solves key challenges faced by emergency service providers who often are slowed down by legacy infrastructure. RapidDeploy's Cloud Aided Dispatch technology is more reliable, faster to deploy, more cost-effective, and richer in interfaces and features than on-premise computer-aided dispatch software.
In August, RapidDeploy announced that it was teaming up with AT&T to provide Public Safety Answering Points (PSAPs) access to RapidDeploy's cloud-based platform. Since then, RapidDeploy has assembled a core group of US public-safety industry leaders who are passionate to drive innovation and improve emergency communications. The company will continue to hire new employees at its downtown headquarters in Austin, working in coordination with the growing team in Cape Town, South Africa.
RapidDeploy
RapidDeploy is the market leader in Cloud Aided Dispatch (CAD) and 9-1-1 analytics software. The RapidDeploy platform is rich in location-based features and interfaces, easy to deploy and affordable for agencies of all sizes. RapidDeploy was built by First Responders using modern Microsoft Azure Government Cloud architecture, providing mission critical reliability, cybersecurity and state-of-the-art Artificial Intelligence. RapidDeploy's mission is to reduce response times for all and improve first responder safety by increasing situational awareness.  Learn more at www.RapidDeploy.com.