PRESS RELEASE
DQE® Introduces the Equipment Decon Station
---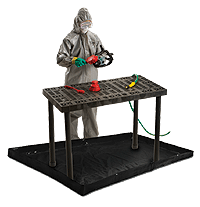 A comfortable, efficient way to decon your responder equipment.
INDIANAPOLIS, IN Following a hazmat incident, thoroughly decontaminating responder gear can be a tedious and awkward task.  The Equipment Decon Station provides a practical solution by moving the decon process from the ground up to a comfortable working height. 
The Equipment Decon Station is a non-porous table that allows water to pass through to a collection pool.  The table is 2' x 4' surface at a working height of 36" tall.  The station includes the table, detachable legs, three brushes in various sizes, and an adjustable hand-held sprayer. 
DQE, Inc. manufactures and distributes emergency preparedness and response equipment for first responders, hospital, military, and industrial emergency response use.  Headquartered in Indianapolis, Indiana, DQE proudly celebrates 17 years of service.  For additional information or to learn more about DQE and its family of products, visit www.dqeready.com.