PRESS RELEASE
DQE® Introduces the Indestructo™ Decon Shower
---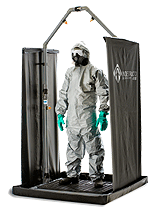 The virtually indestructible decontamination shower.
INDIANAPOLIS, IN - When your responder decon conditions call for equipment that will withstand more than your standard wear and tear, the Indestructo Decon Shower is your solution.  The Indestructo is highly break-resistant, and designed to hold up to the most rugged conditions, including field and military response.
The Indestructo is constructed of the lightest, strongest, most break-resistant pipes and fittings on the market, with specially designed shower heads used to maximize durability.  The shower assembles quickly using quick-connects, and has a fully collapsible design to allow quick storage in an easy to carry vinyl bag.  The four shower heads have a total output of 12gpm.  Two wind screens reduce overspray and enhance privacy.
DQE, Inc. manufactures and distributes emergency preparedness and response equipment for first responders, hospital, military, and industrial emergency response use.  Headquartered in Indianapolis, Indiana, DQE proudly celebrates 17 years of service.  For additional information or to learn more about DQE and its family of products, visit www.dqeready.com.