PRESS RELEASE
JP Laboratories, Inc. Introduces Dual Sensor Personal Smart Dosimeter
---
Middlesex, NJ — JP Laboratories, Inc. introduces RADTriage TM, a dual sensor personal smart dosimeter that reliably monitors radiation exposure in the event of a radiological terrorist attack and/or nuclear power plant accident. The user-friendly RADTriage is designed to be carried with you at all times — in a wallet, purse, or on your identification badge at work. These affordable and always-on credit-card sized badges work without the need for batteries, calibration, or maintenance. Simply match the colors of the sensing strips with the adjacent color reference bars to instantly determine your dose.
 
RADTriage has two sensors to monitor radiation exposure, each developing color in proportion to the dose. The WARNING Sensor turns blue and monitors lower doses of radiation (up to 50 rads) which may not require medical treatment. The CASUALTY Sensor turns purple and monitors higher doses (50 to 1,000 rads) which may require prompt medical treatment. Together, these sensors will help first responders in triaging potential victims.
 
The revolutionary FIT TM INDICATOR (located in the lower right hand corner) simultaneously monitors false positives/negatives, overexposure to heat, and shelf life and gives you peace of mind that you are reliably monitoring your radiation exposure (the black bars located at the top of each sensor provide an additional method to detect false positives). The FIT Indicator also enables RADTriage to be stockpiled (for years if kept in a freezer) by governments and nuclear power plants for future distribution to users in emergencies since shelf life is constantly monitored. For international users, RADTriage is also available in "rem" or "mSv" units.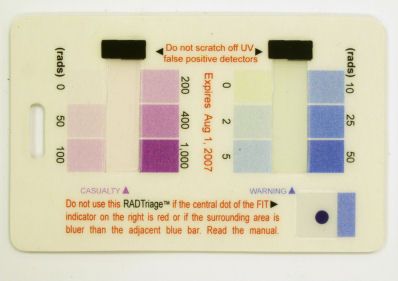 Actual Picture of RADTriage TM
RADTriage has been developed for use by:
First responders (i.e., Fire, Police, and Medical Personnel)
Military (Army, Navy, Air Force, Marines, Coast Guard, and National Guard)
Those who live near nuclear power plants
General public who live in cities at high risk of terrorist attacks and/or those worried about radiation exposure
If used as per instructions, RADTriage will not provide erroneous readings. If RADTriage is subjected to abnormal conditions or use, the user or issuing organization can ascertain this with the FIT Indicator, black bars, and other internal indicators, thus minimizing liability. In emergencies, you cannot afford to wait to confirm your radiation exposure. RADTriage makes the time and expense associated with sending the badge for analysis completely unnecessary.
 
RADTriage is part of the SIRAD (Self-Indicating Radiation Alert Dosimeter) family of dosimeters.  SIRAD is proud to be the recipient of the 2004 Frost & Sullivan Excellence in Technology Award and the 2005 R&D 100 Award as one of the 100 Most Technologically Significant New Products of the Year.
 
SIRAD Technology was developed with funding in part from the Technical Support Working Group (TSWG). TSWG's goal in supporting the development of SIRAD Technology was to provide affordable "peace of mind" insurance to public safety and military personnel confronted with the threat of exposure from a radiological dispersion device, thereby replacing fear and uncertainty with the facts. TSWG support came from the Department of Homeland Security, Department of State, Department of Justice and Department of Defense. Over 6000 dosimeters have been field-tested by various governmental agencies, public safety teams, and the general public with zero complaints in the past two years.
 
RADTriage is distributed in the U.S. by RAD-Tek Distributors of Salem, CT and can be ordered online at www.sirad-usa.com.  For international inquiries, please contact JP Laboratories.  See below for additional contact information.
 
About JP Laboratories
JP Laboratories, the pioneer in self-indicating dosimeters, is a minority-owned research and development company. Major areas of research include color changing indicators to monitor time, temperature, shelf life, authentication, sterilization, toxic chemicals, and radiation. Over the past 23 years, JP Laboratories has developed and patented over twenty new products and processes.
About RAD-Tek Distributors
RAD-Tek Distributors is a veteran-owned small business. The owners and operators have 16 years military experience in both the medical and nuclear submarine service.