PRESS RELEASE
SE International Releases Radiation Alert Sentry Personal Alarming Dosimeter and Rate Meter
---
end picture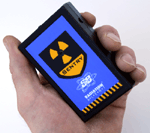 The Radiation Alert® Sentry is designed to ensure the personal safety of radiologists and other personnel that work in occupations with potential x-ray or gamma exposure. The pocket sized unit allows for collecting dose and dose rate data, has built in selectable alarm levels and a headphone jack for use with silent operation.
It has built in memory for recording data points for the purpose of tracking personal dose to generate compliance reports with the use of the Sentry Software. The software also enables you to easily set the alert to your desired levels for dose and rate.
With the flick of a switch, you can turn the unit on or off, set it to audio only alert or a combination of audio and vibrate alerts. The audio switch allows you to choose between an audible click with every count taken, or a discreet silent mode that can be augmented with the use of headphones via the mono jack on the side of the unit.
For further information on the Sentry  contact:
Beth Cramer at 800-293-5759
S.E. International, Inc.
P.O. Box 39
Summertown, TN  38483-0039
Tel. (931) 964-3561; Fax (931) 964-3564
E-mail: beth@seintl.com
Website: www.seintl.com