PRESS RELEASE
SE International Releases the Radiation Alert Abacus Wireless Handheld Radiation Detector
---
end picture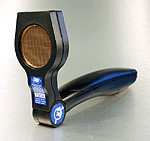 The Radiation Alert® Abacus is a handheld, digital radiation detection device that enables you to complete your surveys automatically with your Abacus and a Windows Mobile™, Palm™ Pilot or Windows™ Computer. Not only does it offer excellent sensitivity to low levels of alpha, gamma, and x-rays, but the internal "guard" detector automatically performs gamma subtraction from the "pancake" detector for unprecedented beta sensitivity.
The software can display a variety of units for a wide array of applications, take timed counts, control the audio of each tube, and save your surveys for easy analysis and sharing, all wirelessly with Bluetooth® right to your computer! The Abacus also has a red count light, a beeper sound and selectable alarm thresholds for quick assessments
For further information on the Abacus contact: Beth Cramer at 800-293-5759
S.E. International, Inc.
P.O. Box 39
Summertown, TN 38483-0039
Tel. (931) 964-3561; Fax (931) 964-3564
E-mail:
beth@seintl.com

Website:
www.seintl.com