How to go to school while working a firefighter shift schedule
A firefighter's schedule can be very demanding, but here are some ways you can get an education while juggling your responsibilities
---
By Matthew McNabb
While working as a firefighter, you may decide you want to pursue a college degree, for myriad reasons. This could include the possibility of promotion or incentive pay, setting an example for your children or simply the pride in the accomplishment of earning a college degree. 
Once you decide to head back to class, there are a number of thing to consider. What school should you attend? How will your schedule line up with the class requirements? What about online education — is it respectable? What are the cost considerations, and are there any scholarships or tuition waivers available for firefighters? These are many of the questions faced by those who want to get their degree and oftentimes these obstacles are enough to frustrate and eventually terminate the process.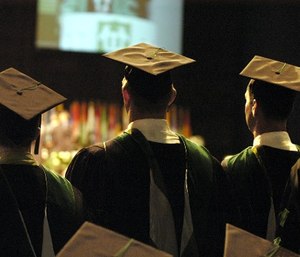 Firefighter schedules pose unique obstacles to receiving an education
A typical firefighter shift schedule is very difficult to maintain alongside a traditional college or university course schedule. Taking time off to attend class is dependent upon personnel availability and can quickly deplete the firefighter's leave balance.
Firefighters typically work using the 24/48 shift schedule, also known as the ABC shift pattern. Though the shifts can be very demanding, many have some down time within their day.
My experience has shown that after dinner most of the work in the station is complete. Other than responding to emergencies, a firefighter can put in several hours during the evening with a laptop and internet card to work toward their degree.
Consider a college or university that offers classes online. Many schools have realized the importance of online education and are now offering classes and entire degree programs over the computer.
What kind of schools should firefighters seek to attend?
Armed with information and a plan to succeed, where do you go from here? Start by visiting the U.S. Fire Administration (USFA) website, which can give you an idea of what you should look for in your university of choice.
When deciding on a college or university to attend, be smart. Many online schools have been criticized as "diploma mills," that are not properly accreddited as an institution of higher learning. Check out local options first, and then venture out to other insitutions that may be able to offer degree plans online. 
As you search for the school that is right for you, consider a few factors:
Schools differ in the length of semesters and course schedules. Make sure any option you choose works for you and your schedule.
Online classes are often taught by professors who are full-time professionals in their field, giving you the unique opportunity to learn from someone who has hands-on experience and wisdom to pass on. 
In-class and online courses offer the ability to network with other students who are at various stages in their career and provide the perfect opportunity to network with others who have the same passion as you. 
By doing the research and finding an accredited school with a schedule that works with your firefighter shifts, and using downtime at the fire station to work on any homework you may have, you can accomplish your dream of earning your degree while maintaing your already-established career.
The time is now, so get started. The fire service is advancing and you can be at the tip of the spear and lead the way within your organization!

Request product info from top Fire Education companies
Thank You!