How this engineer helps firefighters switch red lights to green without ever stopping
Turns out, there's a simple and logical way to do traffic preemption without going broke
---
Sponsored by Collision Control Communications
By Yoona Ha FireRescue1 BrandFocus Staff
Around a decade ago, Adam Brososky, an engineer who had worked for several defense contractors, exchanged the professional attire he put on for his 9-to-5 job for a fire department uniform in Huntertown, a suburb of Fort Wayne, Indiana.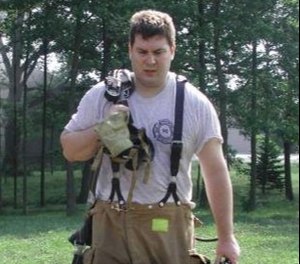 After working as a state-certified firefighter and pitching in on solving many of the department's technical challenges (think GPS and radio-related issues), he met Jeffrey Williams, chief operating officer of Collision Control Communications, who wanted to improve the capabilities of the Eliminator, a traffic preemption system that has been around since 1998.
We spoke to Brososky about how he was able to upgrade the Eliminator's capabilities while making it an affordable option for cash-strapped fire departments across the country.
Q: What made you decide to go from engineering to becoming a firefighter?
Brososky: After I finished my master's degree at Purdue University, I was working full time at Northrop Grumman when I decided that I wanted to become a firefighter in 2009. Growing up, I always wanted to become a firefighter or an EMT because I wanted to give back to the community, and firefighting seemed like a great way to do so.
During my years as a firefighter, I helped with the department's paging system and technical work. After several years, I took a leave of absence from the department to start my own firm called Zuno, and shortly after, I met the guys at Collision Control Communications.
Q: How did you get involved with designing an update to the Eliminator, the traffic preemption system? Does your background involve working on traffic preemption systems?
Brososky: I met Jeff while I was running my company, Zuno, and they told me that they wanted to build the next-generation version of their system. I hadn't worked on preemption systems prior to meeting them, but I had done a lot of work with radio communications with GPS trafficking and most of the components that make up a preemption system, so I had the experience working on the parts of the whole system.
At the time, the biggest issue with existing preemption systems was that they cost tens of thousands of dollars to use and install – but we figured out a way to not make it so costly for departments.
Q: What's one common misconception that first responders have about traffic preemption systems?
Brososky: One of the top misconceptions we encounter is that preemption systems like the Eliminator are just too expensive and that most departments cannot afford it altogether.
First, the Eliminator has robust capabilities and really is a third of the price of the leading competitors, and second, it's a scalable product. This means that you don't have to install the entire preemption system all at once, especially with ours. You can start by installing the system in your trouble intersections and just pick your most important vehicles that need access to preemption and expand this over time. The system is compatible with existing optical systems which makes the decision to upgrade existing systems over time a no-brainer.
So no, it doesn't take a half a million dollars to do 30 or 40 intersections, and no, you don't necessarily need to wait until you can get grant funding to purchase a system like this.
Q: How was it possible for you to introduce a preemption system that only cost a fraction of the price of your competitors?
Brososky: The trick was that we leveraged a lot of technologies that were already out there, so we didn't need to start from scratch, which saved us a lot. There wasn't a need for us to pay an exorbitant amount to get custom parts made.
We still use high-quality military grade components, so in this case especially it's not a case where "you get what you pay for" when you compare us with other major brands out there. You still get an extremely efficient traffic preemption system with more advanced capabilities than from our competitors, at really a fraction of the cost.
Q: Traffic preemption systems haven't been used by many fire departments, especially due to cost. How was the Eliminator designed with first responder needs in mind?
Brososky: We incorporated a lot of feedback from firefighters and their experiences, as well as suggestions on how the system could be better. An example of an update we worked on is the complaint regarding the limited range of the radios on most preemption systems. We wanted to offer a longer range for preemption so emergency response vehicles can have more time to communicate with the traffic signal so it can preempt the light further away. This gives the vehicles more time to get through the green light and clear the traffic ahead. Most preemption systems offer a range of up to 2,500, feet (4.5 tenths of a mile) but ours goes all the way up to a 3 miles allowing our system to Preempt extremely busy intersections from 7 or 8 tenths of a mile way.
Q: Some first responders may be wary of the risk of having your city's preemption system hijacked or hacked into so criminals could get a green light all the way through their escape. How does your system help protect against this threat?
Brososky: This is a real threat, so our radios are point-to-point encrypted. Every message that's sent out is also encrypted and incorporates FHSS (Frequency Hopping Spread Spectrum). There isn't an easy way to explain how we've accomplished this without getting super detailed into the technical aspects of the encryption, but first responders should rest assured that the common ways criminals take advantage of traffic lights don't work on our system. In other words, it would be very difficult for someone to hack into our system. Additionally, the Eliminator does not require Cellular connectivity which means it will work in the event of a large scale emergency which typically bring down the cellular network. However, the Eliminator can tie into cellular, WiFi, and Zigbee networks and is smart city capable.
Q: What is the key takeaway you want first responders to know about the return on investment in a preemption system like the Eliminator?
Brososky: Two key things: First, your arrival time to the scene of the accident will decrease. This is extremely important because we know that every second counts when you're responding to the call. Whether it's a loved one that's trapped inside of a vehicle or someone who's trapped in a fire or is having a heart attack, you know every second is invaluable.
Secondly, preemption systems make first responder responses safer. There are lots of traffic-related accidents that kill first responders, and preemption is not only going to save you time, but it's also going to help make your transit to the scene much safer and legally give you the right-of-way. Fire Chiefs using our system report that the Eliminator solves the problem of distracted drivers. These drivers typically still pay attention to the traffic light through peripheral vision and with the increased range of the Eliminator we are bringing them to a stop from a comfortable distance and ensuring the safest travel through the intersection.
You also must think of the astronomical costs of such accidents, where it's not just the vehicles that need replacement and repair, but it's people that are critically wounded and lives that could get lost that are so catastrophic to everyone involved. So for safety and reducing response times, having that green light all the way will give you peace of mind.

Request information from Collision Control Communications
Thank You!