Foxfire Wins Multiple Awards for High-Tech Safety Products for Firefighters
---
Foxfire has been recognized for its efforts in developing technology that keeps firefighters and those they rescue safe:
• May 2011: Named runner up in the Emerging Business of the Year category by the Cincinnati USA Regional Chamber.
 
• 2011: MN8-Foxfire was a $5,000 winner in the Cincinnati Innovates awards.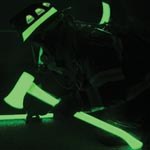 • 2013: Nominated by the Cincinnati USA Regional Chamber for the Ohio Chambers "Excellence in Entrepreneurship" Award.
 
• In addition, MN8-Foxfire has been acknowledged for its efforts in helping others through fundraising efforts, product donations to various events and the company's genuine desire to help others.
 
About MN8-Foxfire
MN8-Foxfire is a firefighter owned company headquartered in Wyoming, Ohio, a Cincinnati suburb. The company offers energy efficient and eco-friendly product utilizing breakthrough advanced illumination technology, marketed under the name Foxfire®. MN8-Foxfire's unique photoluminescent coatings and products provide illumination for several hours and stay visible in complete darkness for up to 17 hours. Foxfire products can be charged in just a few minutes from any light source and be recharged indefinitely. As a result, there is no need for any external battery, electrical, or energy source other than light. Foxfire's illumination provides safety to firefighters and others who work in the dark, and to others who find themselves unexpectedly in the dark when the power goes out.