New on-site gear cleaning service unit brings turnout gear cleaning to your doorstep
Dirty turnouts? Get your gear cleaned faster with the new turnkey service from Decon7
---
Sponsored by Decon7 Systems
By Rachel Zoch for FireRescue1 BrandFocus
Fireground toxins pose a serious health hazard to firefighters, and dirty turnout gear is no longer a badge of honor. As the awareness of these health risks grows, the industry is taking steps to better protect firefighters, such as the most recent NFPA 1851 standard, which requires thorough cleaning and decontamination of all turnout gear at least twice a year.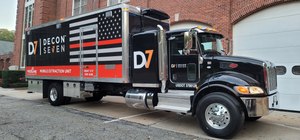 But many departments lack the space or funds for their own high-powered extraction units, so they must rely on independent service providers, which can take days, weeks or even months to perform the required cleaning and return the gear. Even with a backup set of PPE, this can leave firefighters without the critical protection they need on the fireground.
Enter the on-site gear cleaning service concept. Decon7 Systems, makers of the powerful D7 disinfectant/detergent and chemical neutralizer formula, teamed up with firefighter-founded RedLine Gear Cleaning to bring cleaning and decontamination for PPE and turnout gear on site to the firehouse or fireground. The on-site gear cleaning service (truck) is equipped to provide turnkey service with a one-day turnaround.
Mike Elwood, a technical expert and vice president of defense and public safety with Decon7, met Mike Matros, career firefighter and RedLine founder, at a fire industry show in 2020. The two immediately recognized the potential for partnership.
"This mobile unit is an advanced way of thinking of how to perform this service," said Elwood. "We bring everything with us. We have the laundry facility, we bring our own water with us, and we take the dirty water with us as well, so that limits the contamination potential."
TRIED AND TESTED DETERGENT MEETS TURNKEY TURNOUT SERVICE
To be verified to conduct advanced and specialized cleanings in accordance with the NFPA 1851 standard, the wash methods and detergent must be tested by a third party (such as UL) and found to meet or exceed certain standards. In particular, the detergent must remove 50% of VOCs and heavy metals and at least 99.9% of bacteria, viruses, etc. (aka achieve a log kill of 3 on biological contaminants).
RedLine tested D7 on a pre-treat and a one-hour wash and found that they were able to exceed those standards, eliminating the lengthy pre-soak time gear required by some detergents to achieve the required efficacy. The detergency, chemical neutralization, disinfection (hard, non-porous surfaces like helmets) and sanitization (laundry) capabilities of the single solution enables them to provide the quick turnaround with their mobile unit.
But RedLine is located on the East Coast, and its service area is limited to the region east of the Mississippi River. After getting the company on board with D7, Elwood recognized the opportunity to expand the service model across the country. Within a few months, Decon7 purchased its own truck to outfit as a mobile extraction unit serving the south-central region around Decon7's Dallas headquarters.
DECON ON YOUR DOORSTEP GETS GEAR BACK IN SERVICE FASTER
The goal of the new Decon7 on-site gear cleaning service, says Elwood, is to eliminate the wait so that firefighters are never without their protective gear. The on-site gear cleaning service is staffed by local off-duty firefighters under the supervision of a retired firefighter hired by Decon7 to manage the truck. This unit can completely clean and dry up to 50 sets of turnout gear in one day, including:
Inspection.
Separate outer shells from the liners (if possible).
Clean liners and outer shells.
Launder hoods.
Clean boots, gloves and helmets.
Clean SCBAs (optional/extra).
Dry and reassemble.
"We can do all that on-site the same day," said Elwood, "therefore your downtime, as far as firefighters not having the ability to get to their gear, is very minimal."
The service also includes accessories like boots and helmets, which are not typically part of a standard cleaning. The mobile extraction unit crew – staffed by off-duty firefighters trained in the D7 process –will be able to do advanced and specialized cleanings as well.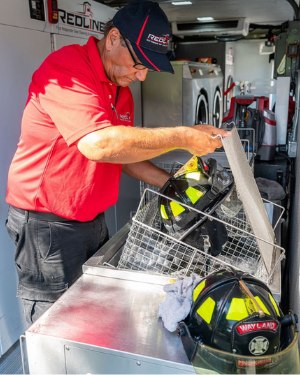 The Decon7 Mobile Extraction Unit is staffed by local off-duty firefighters under the supervision of a retired firefighter hired by Decon7 to manage the truck. (RedLine Gear Cleaning)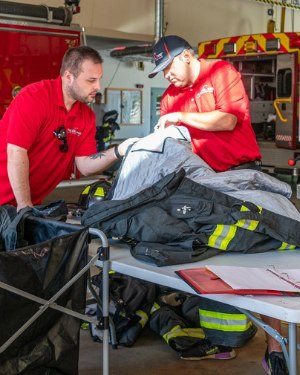 The mobile extraction unit can completely clean and dry up to 50 sets of turnout gear in one day. (RedLine Gear Cleaning)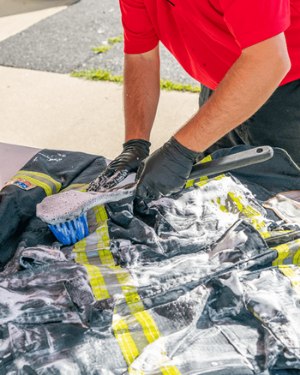 The mobile extraction unit crews are able to do advanced and specialized cleanings. (RedLine Gear Cleaning)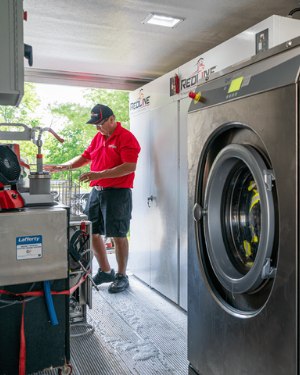 The Decon7 MEU brings everything needed, from the laundry facility to the water – and they haul away the watewater – for turnkey service. (RedLine Gear Cleaning)




"Who knows the gear better than the firefighters?" said Elwood. "Our plan is to hire local firefighters on their off times to come in and work for us and provide a service for other firefighters."
Although the mobile extraction unit will be based at Decon7 headquarters in Dallas, they plan to offer the service to neighboring states immediately and hope to expand throughout the region.
"I think we could probably count on adding at least a truck every year, if not every nine months, for the next couple of years," said Elwood.
TAKING THE SHOW ON THE ROAD
Elwood says they plan to schedule routine visits of the Decon7 truck regionally to help fire departments comply with the NFPA 1851 standard of two advanced cleanings per year, but they can also provide as-needed response within their designated service area.
"A department could set up service with us so if they have a major fire, we can get out there within 24 to 48 hours," he said. "Obviously, the quicker you can do it, the better, so the gear is not sitting somewhere dirty and unused."
Although Decon7 is focusing on regional service to start, they will also have the capability to travel to assist with specific incidents, such as the wildfires on the West Coast.
"We could easily hook a hygiene trailer to the back of the truck, drive it out to California and set up so when these guys come off shift on these fires, we can clean their gear," said Elwood. "They can go in the hygiene trailer, do the shower, get cleaned up – and then the next day when they go on shift, they have clean gear."
Ultimately, he says, the mobile extraction units can respond whenever and wherever they're needed.
"Having the ability to offer a mobile service is a game-changer," he said. "Flexibility in logistics can only benefit the responder. When it comes to wildland fires, we can get as close forward as needed – and if the plan shifts, we quickly pack up and drive to the next location and are back to providing service in a short time."
Visit Decon7 Systems for more information.
Read Next: How changing your decon practice could save your life

Request information from Decon7 Systems
Thank You!