Why you need a decon formula that exceeds the standard
In recent tests, D7 from Decon7 outperformed minimum requirements for reducing contaminants that pose a threat to firefighters' health
---
Sponsored by Decon7 Systems
By FireRescue1 BrandFocus Staff
As awareness of occupational cancer in the fire service has grown over the past five years, the methods and tools available to effectively remove fireground toxins from turnout gear have evolved and improved to meet increasingly stringent standards.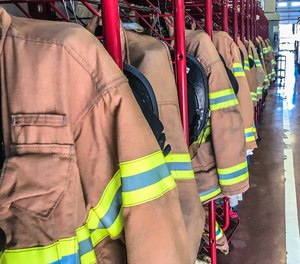 NFPA updated the cleaning efficacy requirements in its 1851 standard for 2020 to strengthen cleaning and repair requirements for PPE used in the fire service. The update also provides guidance on how to evaluate the effectiveness of cleaning procedures used to decontaminate structural firefighting ensembles.
To reduce risk and promote firefighter health, the updated standard prescribes regular advanced cleaning for ensembles and ensemble elements that are soiled or contaminated, including:
Gear that has been subject to ordinary wear without contamination.
Gear that has been contaminated by products of combustion, such as soot and formaldehyde.
Gear that has been exposed to bodily fluids.
Why off-the-shelf laundry detergent won't cut it
One key new requirement is that advanced (machine) cleaning should be performed every six months rather than just once each year. But simply washing isn't enough. Like many tasks in the fire service, effective decontamination requires the right tools for the job, such as special extractors and cleansers designed for laundering turnout gear.
Decon7 Systems provides D7, a patented formula that can break down and neutralize fireground contaminants – and kill infectious particles – as part of your normal turnout gear laundry cycle. D7 is colorfast, biodegradable and will not degrade fabrics, and it has been tested and certified safe for use on PPE by NFPA standards, including fabrics, tape and liners.
Testing shows D7 performs above NFPA requirements
D7 has been tested by multiple third parties and shown to be more effective than detergent and safe for use on turnout gear. Several independent laboratories have tested the formula in accordance with NFPA 1851 standards for cleaning efficacy, as well as other standards for water resistance and related issues.
D7 was used at varying dilution rates in these tests, from the highest dilution rate of 250:1 (i.e., the least amount of D7) to 225:1 to 175:1. If used at a higher concentration (e.g., a 125:1 dilution rate), D7's performance increases.
Vartest: D7 does not damage gear
Testing performed by Vartest Laboratories showed that D7 does not damage or significantly degrade turnout gear fabric. The D7 detergent passed each of the chromaticity requirements and other material safety testing for firefighter safety equipment in accordance with NFPA 1851. These tests also found that D7 provides greater reduction of contaminants with less discoloration.
Furthermore, D7 effectively decontaminates turnout gear without scrubbing, which provides a key advantage, because scrubbing can damage turnout gear and reduce its efficacy.
Baylor: D7 removes more contaminants than detergent
An independent, grant-funded study conducted by textile researchers at Baylor University measured the efficacy and decontamination potential of several solutions, including D7, on firefighter protective clothing. The effects of laundering methods on the functional protective performance of the turnout gear outer shell was measured specifically for flame resistance, water resistance and durability.
The Baylor researchers found that D7 outperformed standard detergent for both chemical decontamination and textile performance after the turnout gear outer shell had been laundered. Gear laundered with D7 also performed better in impact penetration and hydrostatic pressure tests for water resistance, suggesting that D7 may be a better choice when a traditional noncommercial laundering process is employed. Results indicated:
Textile weight and thickness not affected.
Flame resistance not affected.
Of 23 chemicals identified, D7 removed 18:

11 associated with carcinogenic activity.
7 non-carcinogenic with other health risks.
The researchers concluded that reduction of contaminants using D7 is likely to represent a reduction in overall health risk to the firefighter.
UL: D7 effectively removes VOCs, heavy metals and biologicals
A wash test was conducted by Underwriters Laboratory to measure decontamination efficacy using:
A Milnor 30022 TSX washer-extractor machine at 60% capacity.
One wash/drain/extract cycle for outer shells, followed by four rinse/drain/extract cycles.
Five simulated full sets (coat + pants) of gear, plus ballast, totaling 60 pounds of material.
D7 as a spot treatment (1 ounce).
D7 as the main detergent in the wash (9 ounces), with no other detergents added.
One test wash was completed to evaluate reduction of VOCs and heavy metals, and D7 exceeded the minimum reduction of 50% for each. A separate wash was conducted to evaluate D7's efficacy in removing biological contaminants against the NFPA requirements, and D7 exceeded the minimum Log 3 reduction.
Accomplish more with less
Together, these test results show that D7 provides an effective, low-cost-per-use solution for decontaminating turnout gear in compliance with the new NFPA 1851 requirements. It is safe for frequent use and does not require scrubbing, which helps preserve the effective life of turnout gear.
D7 passed all three components of the advanced cleaning requirements prescribed by NFPA with one chemical. It only takes one wash cycle to achieve all aspects of an advanced cleaning. Fewer washing cycles prolongs the life of the turnout gear and saves money on labor, water and the decontamination chemical. The cost of advanced cleaning using D7, per set of turnout gear, is estimated at less than 50 cents.
"With D7, you only need one product and one wash to do it all," said Joe Hill, senior vice president of safety, security and defense with Decon7 Systems. "This saves time, money and wear and tear on your gear and equipment."
Also, because it detoxifies and neutralizes biological contagions and chemicals, D7 can be used for specialized cleanings, such as when highly hazardous or other designated substances are involved.
Get more information from Decon7 Systems.
Read Next: How changing your decon practice could save your life

Request information from Decon7 Systems
Thank You!