Rosenbauer steps into the chassis market
Two years of R&D and expanded factory space allows company to build whole vehicle
---
Not wanting to wait till FDIC, Rosenbauer debuted its completely new cab and chassis at a viewing for sales people, local firefighters and some members of the media at Texas Motor Speedway two weeks ago.
After a two-year research and development phase, the company decided to manufacture its own cab and chassis at a new recently rented 34,000 square-foot factory. 
Rosenbauer wanted to be in total control of the manufacturing process not just building the body, but the whole vehicle itself.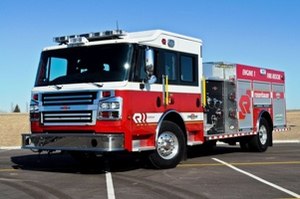 The present design will be available in six cab configurations and five options for cab interiors with seating up to 10 firefighters. The cab is constructed of 3/16-inch aluminum and is available with a wide grill and optional round or rectangular headlamps.
The most noticeable difference on the cab is its one-piece windshield, which Rosenbauer said gives a greater unobstructed view. The company also increased space for foot and hip room for the driver and officer. The floor in the cab is completely flat on all options or cab configurations.
The vehicle comes with Weldon's V-Mux electrical system, Hendrickson front suspension, a high-performance air conditioning unit providing 67,000 BTUs of cooling power, as well as wider doors and steps for easier entry and egress, and a wraparound dash for driver ease of operation.
Along with the Cummins EPA 2010-compliant engine package, which is available up to 600 horsepower, the vehicles will come with either 3000 or 4000 EVS Allison transmissions and will be available in single- and tandem-axle models with up to 60,000 pounds of axle weight.
I am sure we will see some additions and modifications made to the vehicle in the coming months before the first vehicles leave the factory.
But according to Rosenbauer, over 25 vehicles have already been sold. One of the first is going to the Goldsboro Volunteer Fire Company in Caroline County, Md.
A family-owned business founded in 1866, Rosenbauer has built global partnerships with 11 manufacturing locations worldwide building innovative, safe firetrucks. For more information, click here.

Request product info from top Fire Apparatus companies
Thank You!