PRESS RELEASE
Tablet Command co-founders Andy Bozzo and Will Pigeon named to Government Technology's 'Top 25 Doers, Dreamers & Drivers of 2021' list
---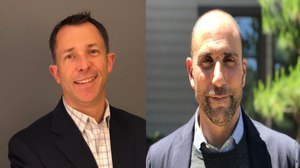 SAN RAFAEL, Calif. — Andy Bozzo and Will Pigeon of Tablet Command, a software-as-a-service tool that helps first responders manage resources and staff at the scene of a disaster, have been named to Government Technology's "Top 25 Doers, Dreamers & Drivers of Government" list for 2021.
The software has been a staple at fire departments across North America for years, including in the San Francisco Bay Area, providing the situational awareness that can mean the difference between life and death.
2020 proved to be a breakthrough year, and the company expanded into San Bernardino County, which thought so highly of the software it replaced its Mobile Data Terminals with it.
"San Bernardino County Fire uses it in every frontline response unit to include our fire engines, squads, ambulances, chief officers, snow cat, boats and helicopter," Jeff Birchfield, assistant chief for Division 1 of the San Bernardino Fire Department, told Emergency Management magazine. "We have found it to be a very effective tool with use of map layers and CAD notes, while en route to incidents, providing situational awareness for our battalion chiefs to monitor unit status within their battalions."  
"We continually strive to enhance our platform based on feedback from our users in the field, so they can have access to the most timely, appropriate and comprehensive information possible in a user interface that is easy to interpret in high-stress environments," Bozzo said. "Our purpose is rooted in our commitment to the safety of emergency response personnel and the citizens they serve."
Tablet Command continues making improvements to its software, and the next iteration will give incident commanders the ability to share each other's communications, said Van Riviere, president and CEO of Tablet Command, and a former battalion chief in Stockton, Calif. "It's only limited by the imagination and bandwidth."
About Tablet Command
Tablet Command provides a best-in-class emergency incident response and management solution to approximately 170 public safety agencies across the United States and Canada. The software delivers higher margins of safety for emergency responders on the ground by creating a fuller picture of the scene and tracking more precise information. Tablet Command also creates operational performance data as a byproduct of the incident management process. Such data — and the operational improvements that can stem from it — has never existed in the fire service before.

Request more info from Tablet Command
Thank You!