PRESS RELEASE
GEARGRID introduces Slinger WorkStation with Power Bar
---
FOREST LAKE, Minn. — Continuing to solve wide spectrums of storage challenges,
GEARGRID
recently announced the addition of its new Power Bar, perfect for keeping electronic devices charged and ready for use.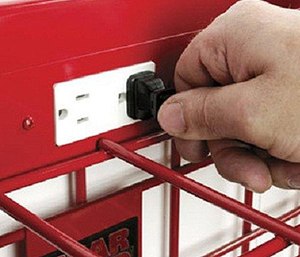 GEARGRID's existing Slinger Workstation and new Power Bar make the ideal combination for a safe, mobile work area providing one convenient location to charge and store necessary tools.
Constructed from heavy-gauge steel tubing and high-strength wire, GEARGRID's Slinger Workstation is easily configured to meet the specific needs of each department. Available in 4' and 6' sizes, the modular workstation is specifically designed for inspection, cleaning, maintenance and portability of cylinders and equipment.
Individual units easily transport through halls and doorways, allowing the workstation to be brought to the equipment for safer, easier loading and unloading. Interchangeable, adjustable, flat shelves for tools and supplies provide space for additional storage.
The workstation's heavy-duty work surface is ready to tackle any equipment repair needs, and is available in brushed stainless steel, black laminate, granite laminate or butcher block.
Adding the new Power Bar to the Slinger Workstation allows for easy access to electrical outlets to keep pagers, phones, flashlights and power tools charged and ready for use at any time.
GEARGRID customer Mary McGrath of Mary McGrath Architects says, "GearGrid systems are price competitive, proven to last and a great organization tool. They are constantly upgrading their products to better meet the needs of the fire service." GEARGRID's newest innovative accessory provides the ultimate solution to yet another unique storage challenge.
About GEARGRID
GEARGRID is the strongest and most versatile line of storage equipment on the market. All GEARGRID products are manufactured in Forest Lake, Minnesota at its headquarters and production facility. Today you will find GEARGRID's full line of equipment storage and transport solutions used in stations nationwide and beyond. For more information visit www.geargrid.com or call 1-888-634-6694.

Request more info from GearGrid
Thank You!