PRESS RELEASE
GEARGRID's wall mount and mobile lockers continue to satisfy the toughest storage demands
---
FOREST LAKE, Minn. — Developed by a firefighter, for firefighters and proudly built in the USA, GEARGIRD has become the innovator of Firefighting Specialty Equipment handling and storage solutions.
It all started in 1921, when GEARGRID first began manufacturing durable steel tubing and wire products for a variety of applications. Building on experience, and inspired by the experience of firefighters looking for a storage system that could stand up to some of the harshest conditions, the GEARGRID Fire Safety division was formed in 1999.
All GEARGRID storage systems are manufactured in its Forest Lake, Minnesota facility. The experience of skilled craftsmen is complemented by state-of-the-art technology and the use of only proven, heavy-duty materials. The in-house design group works with departments, architects and contractors to provide architectural specifications or help with custom GEARGRID system layouts.
Today, enhanced through years of feedback from satisfied fire departments and rescue personnel nationwide and abroad, GEARGRID has earned its reputation as the innovative leader and continues to set the standard for craftsmanship, quality and service.
President of GEARGRID, Bob Foht says, "GearGrid is built on the foundation of satisfying each customers' specific storage needs, while building quality and durable products here in the USA."
GEARGRID's first product, the Wall Mount Locker, is perfect for solving a variety of storage challenges and is intended to stand up to the toughest daily demands. The patented design promotes maximum air movement, minimizing odor build-up and allowing damp items to dry faster. Above floor mounting eliminates floor clutter, making cleaning easier than ever.
Available in 18", 20" and 24" sizes, GEARGRID offers complete customization to match design specifications, so lockers can be built in any combination – whether it is one opening or one hundred. Each locker is outfitted with two shelves and three apparel hooks for additional storage solutions. A selection of seven standard colors: burgundy, black, white, blue, grey, green and red, provide further customization possibilities. Individual locking Secure Doors can also be added to ensure individual security.
An expansion of the Wall Mount Lockers, GEARGRID's Mobile Lockers offer the strength, durability and open design of the original system, while providing unlimited placement flexibility. The simple portability of the mobile lockers allow any space to be used for fast, easy access to turnout gear. Each bank of lockers is mounted to a heavy-duty, welded frame and includes either four locking casters, or adjustable floor mounts.
GEARGRID customer Matt Simmons of Goodwill Hose Co. #5 says, "Everyone at the firehouse is impressed with the quality and we all agree that GearGrid is the perfect storage solution for our turnout gear."
Whatever the need may be, GEARGRID offers the smarter, stronger storage solution.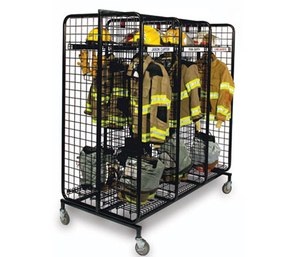 Request more info from GearGrid
Thank You!