PRESS RELEASE
Ram Air Gear Dryer announces the winner of Hometown Heroes Gear Dryer Giveaway
---
KENMORE, Wash. — Eric Magnuson of Kenmore Washington was recently announced as the winner of Ram Air's Hometown Heroes Gear Dryer Giveaway. Magnuson was awarded a Ram Air 4-MU Gear Dryer for Northshore Fire Department—the fire department he serves in.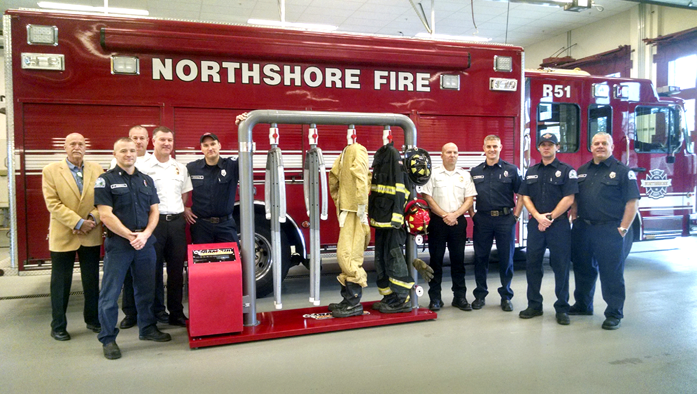 Ram Air Gear Dryer Director of Sales David Adams (left) presents a gear dryer to Northshore Fire Department staff. (Photo/Catherine Krummey, Kenmore Reporter)

Sponsored by Ram Air Gear Dryer, the Hometown Heroes Gear Dryer Giveaway was established as a salute to the firefighters that serve our country. Launched at the 2016 Fire Department Instructor's Conference (FDIC), the sweepstakes ran from April 15, 2016 through December 31, 2016 and was open to employees, volunteers or retirees of any fire department within the United States and Canada.
"As a firefighter-owned company, we have a sincere appreciation of preserving the safety of firefighters and those they serve. Our gear dryers help reduce the risks associated with dirty, wet gear and, as such, we are thrilled to give Northshore Fire Department the tools they need to ensure the safety of their firefighters," said Lance Dornn, president of Ram Air.
Chosen from more than 2000 entries, Magnuson entered the sweepstakes online after reading about it in a fire-industry publication.
"My fire department knew about the benefits of gear dryers, but we didn't have the funds to purchase one yet," said Magnuson, Deputy Chief of Northshore Fire Department. "As a standard practice, our department mandates that our turnout gear be cleaned after exposure to carcinogens and hazardous materials but air drying our gear sometimes takes up to a week. Winning this dryer means we will cut the gear dry-time to just a few hours so we are better equipped when duty calls."
For more information or to find your nearest Ram Air dealer, please visit www.ramairgeardryer.com or contact us at 855-393-3379 (USA) or 888-393-3379 (Canada).
About Ram Air
A firefighter-owned company, Ram Air provides a full range of dryers made exclusively for drying personal protective equipment including bunker gear, immersion/hazmat suits, helmets, gloves, boots, face masks and SCBAs. Their patented dryers use heated or ambient air with powerful fans that push air through gear from the inside out. The large volume of air effectively dries gear in a fraction of the time—getting firefighters back to action fast. NFPA compliant, Ram Air Gear Dryers are built with the highest quality components and set standards beyond any other competitor's products. The company strives to provide unmatched customer service and quality products that ensure personnel gear is in top operating condition—ultimately preserving the safety of firefighters and those they serve.