PRESS RELEASE
Scott Safety, a Tyco Business, Awards $35,000 to Seven Organizations
---
Community grants support organizations within the fire services industry

Monroe, N.C.– As one of the leading suppliers of safety equipment to firefighters, Scott Safety embraces its commitment to give back to the communities it serves. Tyco and Scott Safety are proud to announce they have awarded $35,000 to support seven community organizations across the United States.

"Scott Safety is thrilled to support great organizations that help drive a culture of inclusion within the fire services industry," says Jeff Emery, global marketing director for Scott Safety. "We are so honored to provide needed resources for these groups to help their communities and support those in the industry."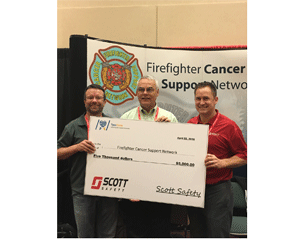 For more than 70 years, firefighters have put their faith in Scott Safety products, and Scott Safety has deep respect for their customers and the fearless dedication they exhibit daily.

The following organizations received a Tyco grant on behalf of Scott Safety:
• Firefighter Cancer Support Network, Burbank, Calif.
• Solutions For At Risk Youth, Inc., Vallejo, Calif.
• D.C. Firefighters Burn Foundation, Washington D.C.
• Troops to Firefighters, Atlanta, Ga.
• Military Firefighter Heritage Foundation, San Angelo, Texas
• 24-7 Commitment, Lewis Center, Ohio
• International Society of Fire Service Instructors (ISFSI)

Each grant will be used to fund a specific program, or outreach initiative supporting each group's local community through efforts like support services, scholarship programs to youth development organizations, and recovery and rehabilitation of injured firefighters and burn victims. Scott Safety is proud to not only support firefighters daily with reliable, innovative safety equipment but also by giving back to the communities that make Scott Safety the "Choice of the Brave."

About Tyco:
Tyco (NYSE: TYC) is the world's largest pure-play fire protection and security company. Tyco provides more than three million customers around the globe with the latest fire protection and security products and services. Tyco has over 57,000 employees in more than 900 locations across 50 countries serving various end markets, including commercial, institutional, governmental, retail, industrial, energy, residential and small business. For more information, visit www.tyco.com.

About Scott Safety:
Scott Safety, a Tyco business, is a premier manufacturer of innovative respiratory and personal protective equipment and safety devices for firefighters, industrial workers, police squads, militaries, homeland security forces, and rescue teams around the world. With five global manufacturing locations, Scott products protect thousands of individuals each day from environmental hazards including smoke, toxic fumes, combustible gases, falling objects, and contaminants. The Scott product line includes self-contained breathing apparatus, supplied air and air-purifying respirators, PPE, gas detection instruments, thermal imaging cameras, and firefighter locators. For more information, visit www.scottsafety.com.

Request more info from 3M Scott Fire & Safety
Thank You!