PRESS RELEASE
Scott Safety Launches HushAir Connect 7500 Compressor System
---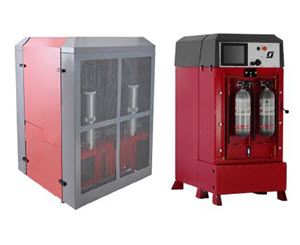 MONROE, N.C. (May 3, 2016) – Scott Safety, a Tyco business, is pleased to announce the launch of a suite of new breathing air system products that include the HushAir Connect 7500, RevolveAir Connect and SmartTouch Controller. Based on feedback from the fire service and industry professionals, Scott Safety designed the new compressor system from end-user input who demanded a smarter, simpler to use, cylinder fill station.

"This new compressor system is an industry game-changer," said Scott Safety Marketing Program Manager Josh Burnheimer. "With the improved safety features and fewer maintenance requirements, we really listened to our customers and gave them what they demanded – a safer, easier to use system."

The next generation breathing air system utilizes a 7500 psi design to decreases fill times and increase capacity – an industry first! With a simple to operate user interface, HushAir Connect 7500 is safer to use and easier to maintain.

Key Advancements:

• Simplicity and ease of use utilizing innovative touchscreen smart controller

• Speed and efficiency of operation

• Improved safety with fewer maintenance requirements

• Lower cost of ownership through its modular design, improved maintenance requirements achieved from a lower RPM compressor

• Automatic RFID sensing technology utilizing a touch screen interface allows for automatic cylinder fill recording, automating the NFPA 1989 logging requirements

• Continuous electronic monitoring of system performance, including voltages, pressures, intakes, output, oil life, filter life, general maintenance and system performance

• Quietest compressor on the market

Designed from the bottom up, the 7500 psi increases efficiency and allows more cylinder fills per charge. With new automatic RFID sensing technology, the RevolveAir Connect is able to detect and select how to most efficiently fill nearly any SCBA cylinder with minimal user input or training.

The SmartTouch Controller integrates the breathing air compressor, charge station, and storage bottles to achieve seamless automation of the entire breathing air system. New safety features include a suite of on board sensors and diagnostic tools, minimizing the user input by automating nearly all the processes required of the user. The entire system has the ability to monitor and record various facets of operation, including cylinder fill record keeping, equipment status, error detection, and breathing air quality. Additionally, the system is fully upgradable with its modular design.

About Scott Safety
Scott Safety, a Tyco business, is a premier manufacturer of innovative respiratory and personal protective equipment and safety devices for firefighters, industrial workers, police squads, militaries, homeland security forces, and rescue teams around the world. With 14 global manufacturing locations, Scott products protect thousands of individuals each day from environmental hazards including smoke, toxic fumes, combustible gases, falling objects, and contaminants. The Scott product line includes self-contained breathing apparatus, supplied air and air-purifying respirators, PPE, gas detection instruments, thermal imaging cameras, and firefighter locators. For more information, visit www.scottsafety.com.

Request more info from 3M Scott Fire & Safety
Thank You!